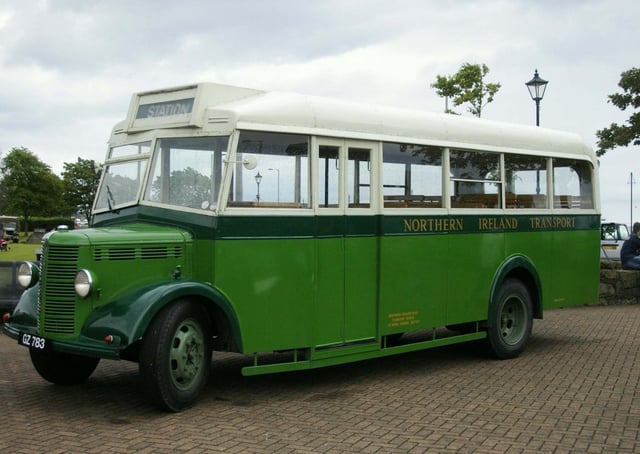 Pictured is an old Ulster Transport Authority (UTA) bus. Picture: News Letter archives
The News Letter on this day in 1950 reported that the Minister of Commerce, Mr W V McCleery, had reminded the Ulster Transport Authority (UTA) that the public was both their customers and their shareholders.
It was important, he said, to remember that when considering the very close interest taken in their activities and the detailed criticism which was made of them. He said: "That criticism might at times seem contradictory, but in fact it is not - it is made from two points of view, the customers' and the shareholders'."
Mr McCleery, who had been speaking at the opening of the authority's new workshops at Duncrue Street in Belfast, said that the authority was, "in a way, undertaking on behalf of the public an experiment in the co-ordination or road and rail transport and the elimination of duplicated and wasteful services".
"There is no absolute guarantee," the minister declared, "that the experiment will turn out to be successful, but it is vital to our economic life that no effort should be spared to make it so. Hard work is not enough - good will and an element of good luck are also required. It is worth noting that, in the progress that has been made In the direction of coordination. the authority is leading the way far the United Kingdom concerned."
Mr McCleery went on to say that it was to their credit that they had taken the lead in the way that they had, but he added that they suffered "all the disadvantages of pioneers feeling their way".
He added: "You must expect, particularly at the start, hard knocks, disappointments and unexpected developments. You will need the stout hearts and steady judgment of pioneers, otherwise you can not hope to succeed. It is my belief that you of the authority have those qualities, and there can be no question that you are are entitled to our confidence and support In your endeavours to overcome the many difficulties with which you are faced."
Referring to the new workshops, the minister said that they formed "a well-designed unit that, from an engineering point of view, and from other angles, was a credit to the province".
He said: "They cost a great deal of money, and that expenditure has come in for a certain amount of criticism, but perhaps in the long run there will have been more criticism if steps had not been taken to eradicate the waste, duplication, and loss of efficiency resulting from the authority's workshops and stores being scattered in small, inconvenient and unsuitable places".
He added: "It has required great courage to carry through such vast undertaking and thus back your own opinion that it will on balance save money. We all most sincerely trust that your enterprise and initiative may meet with its just reward by effecting those economies of co-operation which the authority were charged to seek out and carry into effect."