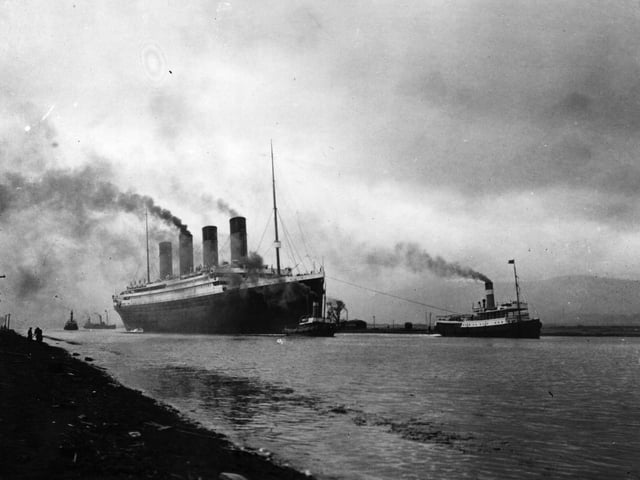 The SS 'Titanic', leaving Belfast to start her trials, pulled by tugs, shortly before her disastrous maiden voyage of April 1912. (Photo by Topical Press Agency/Getty Images)
On this day in 1926 the News Letter noted with regret the passing of Mr James A M Heyn of Strandtown House in Belfast at his residence, Mullagh Cottage, near Killyleagh in Co Down.
Mr Heyn had been the chairman of the firm Messrs G Heyn and Sons Limited, steamship agents, managers of the Ulster Steamship Company and owners of the Head Line and Lord Line of steamers.
A son of the late Chevalier Gustavus Heyn he was born in 1844 and educated at the Royal Belfast Academical Institution and on the Continent and had also spent a number of years living in India.
Heyn, noted the News Letter, was an accomplished linguist and gained valuable experience of "men and things through his extensive travels in foreign lands".
He had held a number of important consular appointments in Belfast and had been the representative in the city for Belgium, Russia and the Netherlands.
But his chief achievement, remarked the News Letter, was the large responsibility that he had borne in the building up of the great firm with which his name was "so long and honourably associated".
In his private life Heyn had been held in the highest esteem for his many "estimable qualities", while in commercial circles he was known and admired for his "sterling integrity".
For many years he had been an active member of the Belfast Natural History and Philosophical Society and had also been connected with the Royal Ulster Agricultural Society in whose work he had taken "a deep interest".
Heyn had also been a prominent Freemason and a respected member of the Union Club of Belfast.
He had also been an enthusiastic yachtsman and a member of the Royal Ulster Clubs and had owned the famous racing yacht Olga which won many prizes on the Clyde, as well as at Belfast Lough and Kingstown.
Mr Heyn was survived by two sons, Major Heyn and Mr Ivan Heyn and the News Letter noted: "Deep sympathy will be felt with them and with Mr F L Heyn and the other relatives in their bereavement."
Mr Heyn's funeral, concluded the News Letter, was to be a strictly private affair.