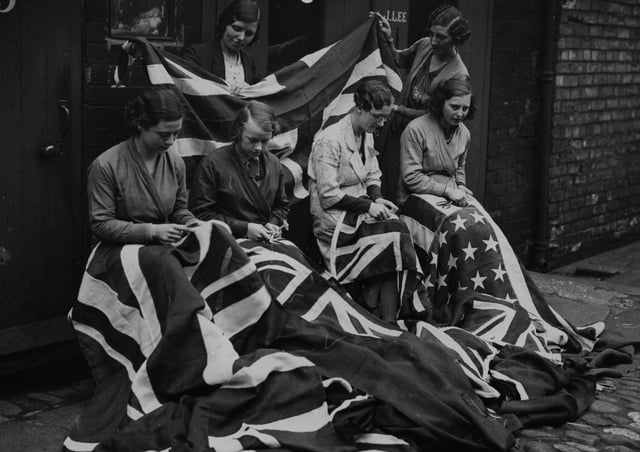 4th May 1936: A scene at a Hull flag factory preparing for the coronation of King Edward VIII. (Photo by Fox Photos/Getty Images)
In an editorial published on this day in 1936 the News Letter noted that Northern Ireland had "a reputation to maintain as one of the most attractive and flourishing parts of the United Kingdom" and the Ulster PM, Lord Craigavon, had urged a general spring cleaning ahead of the planned coronation of Edward VIII in May 1936, a coronation which would never happen.
The editorial read: "Although the date of the Coronation of King Edward VIII is still many months ahead, preparations for celebrating the event are already being made.
"Naturally the Capital City of the Empire, and the scene of its most stately pageants, may be expected to rise to a great and historic occasion.
"Buildings, public and private, will receive attention in order that the City may present its best and most pleasing appearance to the hosts of visitors which will arrive from all parts of the United Kingdom, the Dominions overseas, and foreign lands.
"Shipping companies are offering special facilities to travellers from abroad, and the number of strangers within London's confines next summer is expected to set up a record.
"These visitors will be there during the Coronation festivities, but many of them will not return home without arranging to see more of the United Kingdom, and not a few, doubtless, will come to Ulster, especially those who have family associations with the Province.
"If for no other reason, then, it behoves the Ulster people not only to see that they receive a hearty welcome, but to ensure that their impressions of the place shall be favourable.
"In the interests of tourist traffic Lord Craigavon has appealed, from time to time, for a spring cleaning of the Province - a general 'brush up; that would give it a spick and span appearance and it is eminently desirable that before next summer special efforts in this direction should be made by cleaning and pointing and repainting buildings and by removing anything that is unsightly. Ulster has a reputation to maintain as one of the most attractive and flourishing parts of the United Kingdom.
"Public authorities in Belfast can be depended upon to make suitable arrangements for celebrating the Coronation.
"Already consideration is being given to schemes of public decoration, ceremonies, and entertainments on a scale which will equal, if not surpass, anything that was done when the late King George was crowned or when his Silver Jubilee came.
"Towns and villages throughout the Province will, doubtless, do their part, and at night Ulster as a whole will be illuminated."
The editorial continued: "'A general brush up' would greatly add to its appearance and, incidentally, would provide a good deal of employment. People can help some of their own industries, too, by making certain that the flags, streamers, and Coronation novelties which they purchase are of British or Ulster manufacture.
"Foreign countries, alive to the opportunities for trade on such an occasion, have planned to place huge consignments of goods in the United Kingdom.
"The Imports Advisory Committee has been urged to put a prohibitive duty on such imports."
The editorial concluded: "To a loyal people, however, the obligation on such an occasion to give preference to the manufactures of subjects of the Crown ought to need stressing."