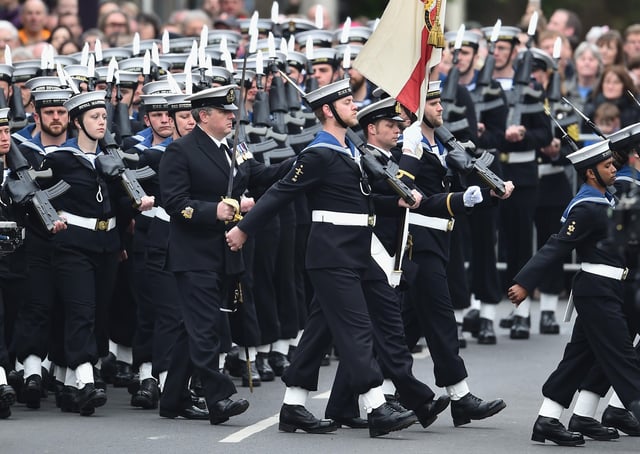 Sailors attending a service to mark the centenary of the Battle of Jutland at St Magnus Cathedral in Kirkwall, Orkney, in May 2016. Picture: Jeff J Mitchell/PA Wire
There was much excitement in Bangor this week 1918 with the return of one of the town's brave sons, Commander Barry Stewart Bingham, back from the First World War His return to his home town, noted the News Letter, was an occasion "not only of great popular demonstration but also of a series of interesting ceremonies".
Readers of the News Letter were reminded that Commander Bingham had won the Victoria Cross for his "heroic and gallant conduct in the Battle of Jutland" which had proved to be the last serious challenge of the Germans to the supremacy of British sea power. When the ship that was carrying him docked he stepped into a landau that was waiting for him on the pier to bring him home to Bangor Castle.
But one newsworthy point recalled by the paper's correspondent was that the crowds that gathered to welcome home Bingham had been so enthusiastic that the horses were removed and a procession was formed to bring the commander to the castle. At the castle he was received by his mother.
Pictured in May 2016 HMS Kent (right) and the German battleship SMS Schleswig-Holstein are moored in Scapa Flow as sailors and descendants of those who fought at the Battle of Jutland attend a service at Lyness Cemetery on the island of Hoy, Orkney, to mark the centenary of the battle. Picture: Andrew Milligan/PA Wire
The News Letter noted: "Commander Bingham was chaired right into the mansion, and addressing his admirers from the balcony, he expressed his thanks for the wonderfully enthusiastic reception accorded him."
That evening Bingham was the recipient of a series of presentations in the Dufferin Memorial Hall to which he was conducted by "an admirably organised torchlight procession".