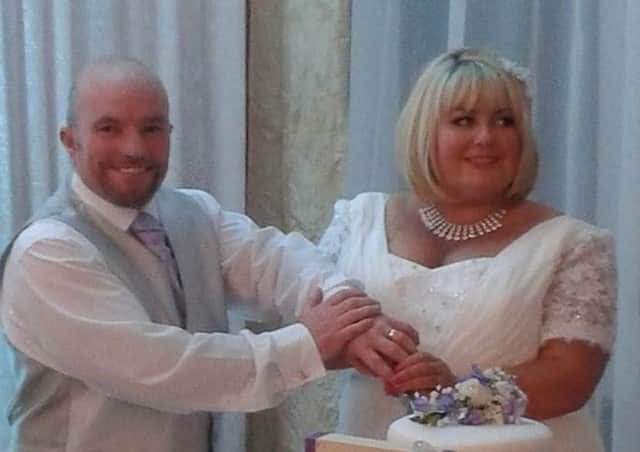 Bronagh and Michael McDowell
Bronagh and her husband Michael have been fostering for almost five years.
They have three sons and decided to open their home to young people who needed their support.
"Myself and my husband both wanted to be foster carers for quite a while and knew that we had a lot to give, but didn't have the space," she explained.
"Around six years ago we renovated our house so decided to take the step forward as foster carers, and we haven't looked back.
"Before I started fostering I was in a full time job working long hours and we intended for my husband to be the primary carer.
"After around four months I was already in love with fostering and it became my main priority.
"I decided to step into the role as primary carer, my husband went back to work full time and I supported him with the family business.
"For anyone thinking of fostering I would say it's very rewarding and you won't regret it.
"It's not without its challenges but it has changed our family life for the better."
HSC Northern Ireland Foster Care is making a fresh appeal for foster carers as they co-host the launch of The Fostering Network's annual Foster Care FortnightTM , the largest celebration of foster care in Northern Ireland.
Around 2,780 children and young people are currently living in foster care, which represents a 4.8% increase in children in care since the beginning of the pandemic.
With less people coming forward to offer foster homes, HSC NI Foster Care need foster carers more than ever.
"Foster Care Fortnight is an opportunity to raise awareness of the fantastic work of our foster carers," said Una Carragher, Manager of HSC NI Foster Care Central Service.
"It's also a time for reflection and looking forward with positivity,"
"There is no doubt the past year has been very challenging due to the difficult circumstances the Covid-19 pandemic has presented.
"We are deeply appreciative and thankful to all our dedicated foster carers across Northern Ireland who continue to go above and beyond daily to provide love, care and security to children and young people.
"We always need more foster carers and we are confident that generous members of the public will seriously consider foster care in the weeks and months ahead."
Kathleen Toner, Director of The Fostering Network in Northern Ireland, said: "If the last year has taught us anything it is the importance of our families, our friends, and our close connections.
"Foster carers in Northern Ireland have done an incredible job during the pandemic ensuring children are nurtured, loved and protected, and not to mention educated.
"At this time of huge uncertainty and instability foster carer's homes have continued to be safe havens for children. Their unwavering commitment is a stabilising influence on children's lives.
"However, we are concerned that one of the outcomes of this year has been fewer people are have come forward to foster, despite the need being greater than ever.
"As we emerge from this crisis phase, many are re-evaluating their lifestyles.
"We would urge people to consider foster care as an option for their family."
To find out how you could give a child or young person a brighter future contact 0800 0720 137 or visit the website www.adoptionandfostercare.hsnci.net