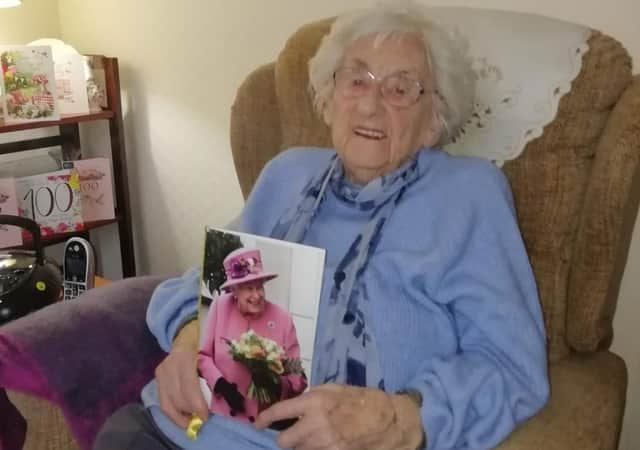 Mary Johnston
Mary Johnston turned 100 years old on January 11, celebrating with her direct family at home, while close relatives elsewhere, including the United States, joined via Zoom due to COVID precautions and travel restrictions.
Born January 11, 1921 in Killucan, Ireland as the oldest of six children, Mary was raised and schooled in Armagh while living with her uncle. As an adult, she went to Belfast City Hospital to train for nursing in the late 1930's. She then qualified for midwifery in Glasgow in the years following.
She returned to Belfast to become a senior nurse, overseeing the midwife's unit. In August 1949, she married Norman Johnston and moved to Whiteabbey where she continues to live to this day. Three years later, she had her first child, Valerie, followed two years later by her second child, Len.
Mary Johnston's telegram from the Queen
In the late 1950s, Mrs Johnston retrained at Whiteabbey and returned as a part time nurse. In the early '60s, she became a district nurse and then a school nurse until her retirement in 1981. Her family says that, for many years when anyone had an accident or was sick or about to have a baby, she acted as the 'local emergency ward' for the area.
During her retirement, she has enjoyed regularly babysitting her two grandchildren, Caroline and Keith, in Northern Ireland, as well as visiting her daughter and family in England.
After losing her dear husband in 1984, she visited and supported elderly people in their homes and residential living.
Granddaughter Caroline said: "Nana is a very independent woman and acted as such until the last couple of years.
"Despite mobility challenges, she lives at home and has carers calling to assist her. As sharp as ever, Nana continues to chat with family and friends, most recently over Zoom.
"Though she is 100 years old, she has not lost her ability to adapt and be resilient, especially during 2020.
"Nana Johnston continues to show those surrounding her that you are never too old to 'crack on'."
Mayor of Antrim and Newtownabbey, Councillor Jim Montgomery said; "I was delighted to pay a special doorstep visit to Mary on her 100th birthday.
"She has had a remarkable life and brought much to the community in Whiteabbey over the years. To reach this milestone birthday is a remarkable achievement and I was pleased to hear that the current pandemic didn't spoil all the celebrations and that Mary was able to celebrate her special birthday with her family over Zoom."