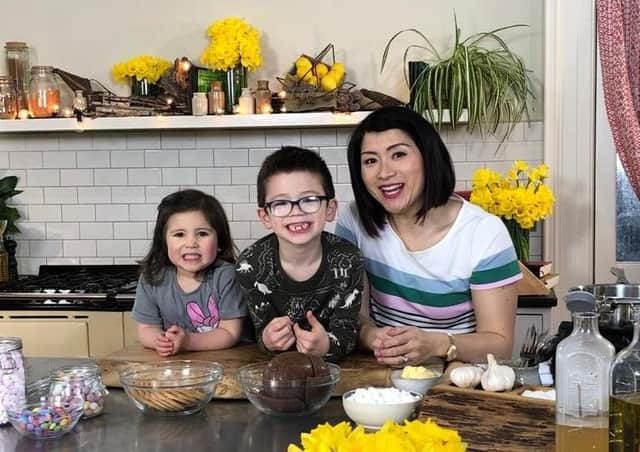 Suzie Lee with her children Zander and Odelia
The new series of the show, which began this week, will see Suzie, who grew up in Lisburn, mix her Chinese heritage with local Northern Irish produce, to create some delicious dishes that you can make yourself at home.
As well as some springtime and veggie recipes, Suzie also has her kids, Zander and Odelia, on board to help with some tasty treats for budding young chefs.
She will also be visiting some local producers to get an insight into where our home-reared ingredients come from before they arrive in our kitchens.
Crispy Tofu and cauliflower stir fry
Suzie has always had a passion for cooking and when she had the chance to show off her skills to Mary Berry and the other judges on last year's hit show 'Best Home Cook', everyone else had the chance to share that passion.
Despite having to keep her success on the show a closely guarded secret for nine long months, Suzie was thrilled when she won the crown and it has been a rollercoaster ever since with corporate and fundraising events, as well as the socially distanced filming of her very own cookery show.
"Being crowned Best Home Cook was something I never imagined when I started out on this journey," Suzie said after winning the show in February 2020. "It has been life-changing and equally a life-affirming experience, where I am now genuinely excited to pursue a career in cooking - which has always been my lifelong dream."
Following the success of the first series of the show in August last year, Suzie is now fulfilling that dream with the second series of her show, Home Cook Hero, in which she is taking the opportunity to embrace her Chinese heritage with some easy to follow Cantonese dishes.
"I identify myself as Northern Irish but I know I am Chinese and I am very proud of both of my heritages," Suzie said.
"I think they are so well matched because food and family are both central core values. I am so glad that I was brought up in Northern Ireland, there is a real community feel here.
"I love that I get to showcase my Chinese heritage. My mum was an amazing cook so I've always been nervous of showcasing the Chinese side of cooking because there will definitely be a lot of critics in my family. But I wouldn't have it any other way.
"Chinese cooking isn't difficult. It is all about the prep. Chinese food can be made in minutes.
"There is never a time when I don't cook so all of these recipes come from my heart. Cooking is ingrained in me and I just love feeding people.
"The BBC had faith in me to come up with the recipes and for me that is a massive compliment."
During the series Suzie also enjoyed getting out and about to visit local farms and stressed how important it is for people to support local suppliers. "I loved getting out to see different suppliers," she continued. "Lockdown has really shown the importance of shopping local."
In episode one Suzie created a delicious Easter feast, starting with a flavour packed Cantonese steamed black bean and ginger salmon. After a visit to Millbank Farm in County Down, Suzie cooked up an epic Sunday roast of slow cooked leg of lamb served with a rich potato dauphinoise and celeriac.
Episode two sees Suzie prepare delicious vegetarian and fish dishes including a veggie tart, salted chilli crispy tofu, Cantonese cauliflower stir fry and hidden veggie mac and cheese before cooking a whole brill on champ with a rich cream sauce, champ potato bread and moreish spiced carrot cake buns. Suzie picks up fresh seasonal vegetables at Glasswater Farm in Crossgar.
Pork takes centre stage for the final episode and Suzie meets with Robbie Neill at Stonebridge Farm to select her pork cuts from their free range herd. Then it's back to the kitchen where she shows viewers how to create Chinese crispy pork belly (siu yuk) and Char siu pork rice, followed by pork and prawn wontons and noodles, sausage rolls and skinny German biscuits.
Suzie is delighted that the new series is hitting the small screen and she hopes there may be more in store down the line. She is also hoping to make one of her other dreams come true.
"I have a Chinese cookbook currently with four publishers and I am hoping one of them will take it on," she revealed. "That would be the cherry on top."
Despite still working full time as an accountant, in a job she loves, Suzie admits that she has found a new love of being in front of the television camera.
"I do actually quite enjoy TV ," she said. "As much as I am the person who hides behind other people in photos, for some unknown reason I really enjoy being in front of the TV cameras.
"That has been the most surprising thing for me, I am not camera shy and I really enjoy doing live shows as well. I would love to have another series."
Suzie Lee Cooks began on BBC One NI on March 31 at 7.30pm and will run for three weeks. The series will also be available on BBC iPlayer.