NI baker Mark Lutton rises to Great British Bake Off challenge
Northern Ireland's Mark Lutton made a good impression in the opening episode of the new series of the Great British Bake Off, on a day when he should have been celebrating with his wife.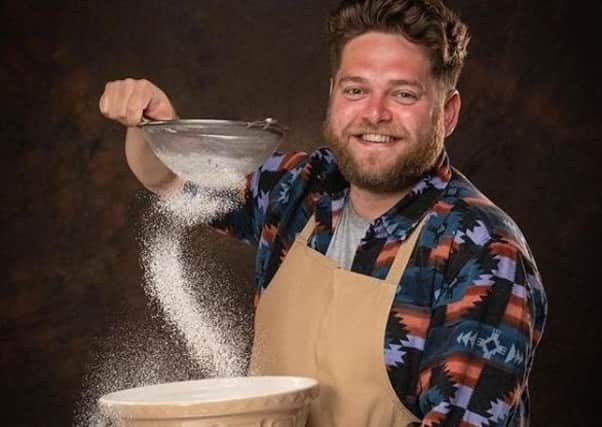 Mark, who is from Portadown and now lives in Liverpool, passed his first three challenges with flying colours, receiving plenty of compliments from judges Noel Fielding, Prue Leith, Paul Hollywood, and new addition Matt Lucas.
The new series of the popular baking competition on Channel Four, which was filmed during the summer, began last night with Mark, a 32-year-old project manager who went to university in Edinburgh, baking a Turkish-inspired Battenberg.
As he chatted with Noel he explained that it was his wedding anniversary though because of the competition the best he could do was send his wife Laura a text.
Having impressed with his first test, Mark's Pineapple Upside Down cake did not look the part though Prue was impressed with its flavour.
The former Zoology student redeemed himself with his cake bust of a celebrity hero – Charles Darwin.
"I like the idea of doing someone who is not alive so I can't offend them," said Mark, who also remarked that being in the Bake Off tent was a bit like 'survival of the fittest'.
Paul was impressed with the likeness of Darwin and the subtlety of Mark's spices.
Peter Sawkins, an accounting and finance student from Edinburgh, was named star baker in the first episode while 27-year-old diagnostic radiographer Loriea Campbell-Clarey was eliminated.
After it was revealed that Mark would be a contestant on the Great British Bake Off he posted to his Instagram page @TheBakingBuddha: "So, the secret is out... it was me. I bought all the flour (and toilet roll). Wish me luck!"
In a interview with the Radio Times Mark said he began experimenting with baking during his uni days.
The Northern Irish man, whose job as a project manager for public health research programmes takes him all over the world, said he visited a pie shop in Edinburgh daily for their delicious Mac 'n' Cheese pie and that inspired him to take up baking.
Of his strengths and weaknesses he said: "I think I am quite a versatile baker and always up for a challenge."
"My biggest weakness is baking to a time limit – at home I spend hours (and sometimes days) baking something as a way of de-stressing, so I wasn't sure how I would deal with that in the tent."
The Great British Bake Off producers made behind-the-scenes changes for this summer's filming which included isolating in bubbles for the entire crew, cast and production.
The show is on Channel Four on Tuesdays at 8pm.