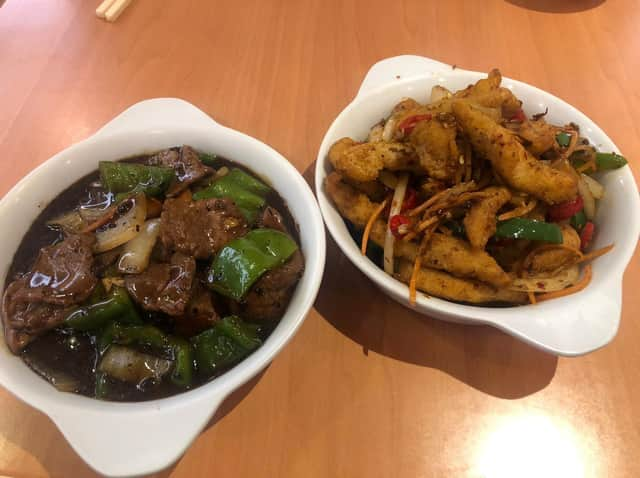 Image courtesy of winners, Golden Garden
Following on from the success of our fish and chips survey, we recently followed up by asking our Ulster Star readers, where is the best Chinese takeaway in Lisburn?
Proving to be a hot topic of debate, our valued Ulster Star readers have responded in their droves, letting us know your favourite places for a Chinese takeaway.
We have counted the votes, and can now reveal the results.
*Please note that this is the result of the poll as voted for by our Ulster Star readers*
140 Longstone St, Lisburn
Golden Garden was a firm winner, running away with the most votes to win our top spot.
Established 30 years ago, the fully licenced Chinese restaurant offers over 80 different meals to choose from in our menu, including children's dishes.
Indeed, Paul Prentice raves about one of their dishes in particular, commenting: ''Their black pepper steak Cantonese style is famous! I've never had a better version anywhere else.''
Another extremely popular choice, Pagoda earned silver place in our poll, with readers enthusing about the popular Asian takeaway.
Craig Maxwell said: ''My vote is for Pagoda, as everything from here is done with love. Their Kung-Po is beautiful, the sweet smoky heat just dances across your taste buds.''
Popular Maxim's came in joint second place, with not only their food but their customer service praised amongst some of the many comments we received.
Mickey Barthez said: ''Maxims in Antrim Street is hard to beat. The food is delicious, the service is quick and the ladies who take the orders on a Saturday teatime are very pleasant and helpful.''
Pearl Hamilton was among the many voters for this popular Chinese takeaway, enthusing: ''They are definitely number one for us.''
Lynn Adams also revealed that whilst it was a ''hard decision'' that mouth-watering Cam Hing was ''the one we probably order from the most.''
Meanwhile, Gary McMaster said that in his opinion: ''No-one can even come close to their sweet and sour dishes.''
97-99 Knockmore Rd, Lisburn
This popular family-run business 'uses nothing but the best' and it is clearly popular with our readers as you voted Dragon Kind joint fifth favourite in our poll.
122 Ballymacash Rd, Lisburn
In joint fifth spot, Man Lee was extremely popular in our poll, with those voting particularly complimentary in their comments for the highly-rated takeaway.
Aaron McCourt revealed it his personal favourite: ''I've more or less eaten out of every Chinese takeaway in Lisburn and found Man Lee, Ballymacash is by far the best Chinese takeaway.
''You pay a bit more but the quality is there and I feel they use better ingredients.''
Irene Moore said of the popular oriental takeaway which uses 'authentic Chnese food cooked in real Chinese sauces:''
''Wokalicious in Milltown is without a doubt the best Crispy Salted Chilli Beef and Salted chilli Chip around. They have a great variety on the menu to choose from,large portions and good value for money.''
111 Moss Rd, Antrim, Lisburn
Yet another joint contender, China Inn tied with Wokalicious for seventh place.
Maxine Loughead hailed its, ''Lovely food and quick service,'' which was a prevalent opinion amongst the many other voters for this Chinese restaurant.
1F Centre Bentrim, Bentrim Rd, Lisburn
Tying in ninth place, Calire Butler was amongst many of the voters for this local restaurant, with Daniel Polley agreeing it was an ''unreal place,'' and that, ''Bejing surely can't be beaten.''
139 Longstone St, Lisburn
Hines LA commented: ''YoYo Asian Fusion has really stepped up since moving onto Longstone. Food is amazing, portions are massive and it is very affordable. I love this place!''
Meanwhile many of you agreed, including Derek Maclachlan Scotchy, who said: ''Yoyo Fusion is awesome . Food is delicious and portion sizes very fair. Five star .''