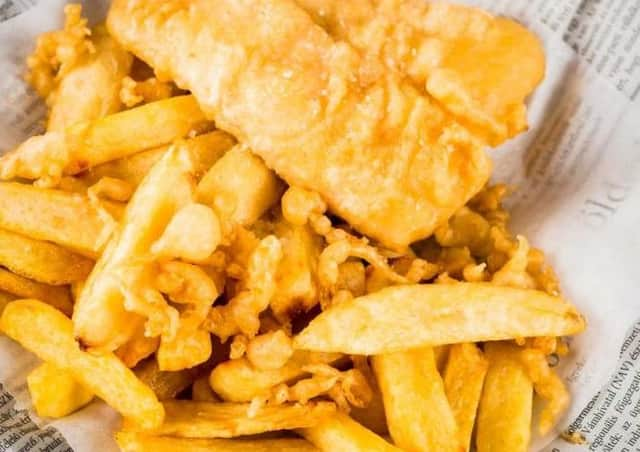 Fish and chips (stock photo)
We asked our Ulster Star readers recently to tell us where are their favourite places for fish and chips in Lisburn.
You responded in your droves with lots of you commenting on what makes each place your favourite.
Hunt's, Moss Road, Lambeg were our joint winners alongside Anderson's on the Low Road as voted for by our Ulster Star winners.
Suzan Mussen commented: ''Their fish and chips fantastic and have been for as long as I can remember'', whilst Billy Ferguson agreed, adding: ''Absolutely unmatched in quality and service.
''We drive past countless chippies from one end of the city to the other just to go there. Hunt's, Moss Road is well worth the number one spot.''
Anderson's on the Low Road also scooped the coveted first spot on our list, with James Holdsworth commenting that it was for him, the: ''best chippy in town.''
94 Killeaton Cres, Dunmurry
Hungry Harry's also did extremely well with readers, with loyal fans also remarking on the beloved establishment's devotion to giving back to the local community.
Georgina Watterson said: ''Laura and her staff are friendly helpful and the fish is amazing, with the portions hard to finish. She supports her local community in so many ways and throughout the pandemic has continued to feed those have supported her.''
Reta Wetherall agreed, adding: ''Hungry Harrys not only give great value but they are amazing at continually supporting their local community and feeding the homeless. It's an honour to have them in our area. Lovely, tasty food as well!''
97 Knockmore Road, Lisburn
Ulster Star readers were also huge fans of the Golden Cod, citing the delicious food and value for money amongst the reasons why.
Jenny McCutcheon said that for her: ''The Golden Cod serves the best fish supper - I wouldn't go anywhere else now.''
5. Vintage Fish and Chip's
Harmony Shopping Centre, Skyline Drive
Aaron Elmore was amongst many of our Ulster Star readers who voted for Vintage Fish and Chips. Aaron commented that in his personal opinion, Vintage Fish and Chips serves the ''best fish in Lisburn by far.''
Michael's Fish and Chips also scored extremely high on our list, earning them a spot within our top 10 from Ulster Star readers. Readers hailed their tasty dishes, with Dany Crumley enthusing that in his opinion it is for him the ''best in Lisburn.''
One reader enthused of The Chipped Potato that: ''From the moment they opened they have offered amazing food. They have always kept a high standard of food from the start. And portions are massive.''
2A Tonagh Dr, Longstone Street
Gillian Allison was amongst many of our readers to nominate the popular Mr Thom's. She said: ''Mr Thom's is the best chippy on the planet.
''Incredible food, fantastic staff, manager Kelly is the best and Allen Thom makes sure they have all they need. It is hard to pick a favourite. Their new chicken is out of this world but there isn't a thing on the menu I don't love. Absolute winners (for me) hands down.''
Simply Fish and Chips scored extremely well also, with readers enthusing that their portion sizes and mouth-watering dishes were just some of the reasons why they earned one of the top spots on our list!
Mark Crothers hails the Codfather, commenting: '' The Codfather does a good fish supper with decent portion sizes and nice extras.''