Belfast TV star Mary Anne Farenden, best known for being the resident artist and garden designer on BBC's B&B By The Sea and the winner of last year's RTE's Super Garden, says spending time creating the perfect space now means more time to relax over the summer months.
Here are Mary Anne's top tips for creating the perfect outdoor space for the whole family:
1. Have space for the kids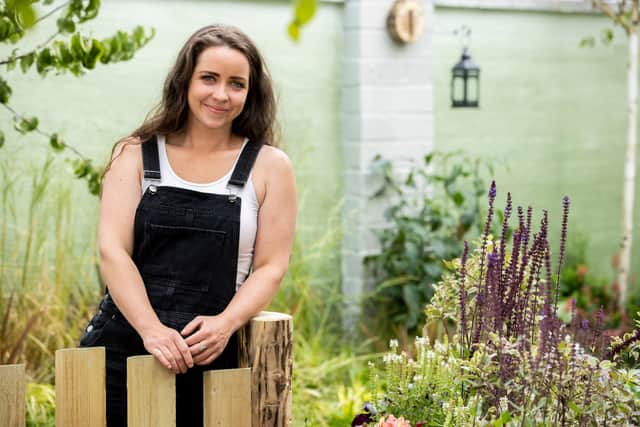 "Kids love to play, climb, run, get creative, explore, learn and so much more. If you have a smaller space to work with, open space doesn't need to be the only solution for making your garden child friendly" said Mary Anne.
Mary Anne added that having a chalkboard on the wall, or starting a small fruit patch are great simple, low-cost ways to engage kids: "Climb-up playhouses that include a play space underneath are a great way to make the most of the kid-space in your garden, and often can accommodate sand or water play features, climbing walls and other additions such as swings, which are also brilliant for kids.
"If you have a larger garden, an area for them to run around on soft ground can be a great addition. If your kids enjoy activities like scooting, cycling or rollerblading, having a paved area will allow them to do so in the comfort of their own back garden – which will make supervision that bit easier, too."
Mary Anne explained having a space for the kids to enjoy also means adults can have their own tailor-made space in the garden, such as a seating area. A balance can be struck in the back garden to ensure that both adults and children have areas where they can relax, enjoy and unwind.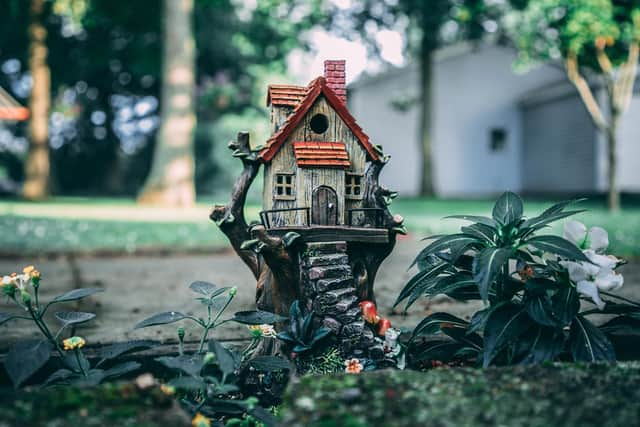 Mary Anne said having an outdoor space means eating outdoors can give the family a welcome change of scenery throughout the summer months.
"Whether it's a space for a quiet morning coffee, somewhere to wind-down after work or a place to entertain, finding out what works for your lifestyle and budget is a good place to start.
"With a few pieces of furniture and some personal decor, making al-fresco memories with your loved ones never looked so good. Try to avoid following trends too much, and just find what you like. Garden and outdoor spaces can handle a little less rigidity, just look at nature for inspiration!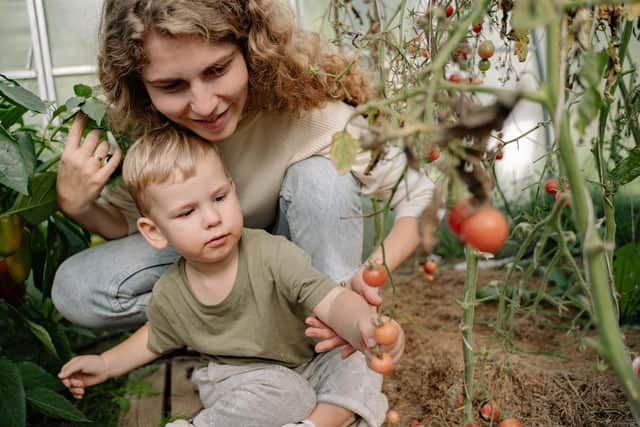 "Although the prospect of buying outdoor furniture might be off putting for some, it is a worthwhile investment. Not all garden furniture is expensive, nor does it have to be. It's worth looking on eBay or Facebook Marketplace to see if any garden furniture has been listed.
"Finding where the sunlight is in your garden at different times of day, and choosing the location for your dining space accordingly can make a big difference too. A fire pit or overhead heating can be a great way to light up your space and create ambience. Consider using candles, artificial tea lights or floor lights to accommodate this.
"We all know Northern Irish weather can be unpredictable so you might want to consider canopy so the rain doesn't stop the fun. For a more permanent solution, consider a pergola with a perspex roof, to allow the light through, but keep heads dry."
3. Ensure it is practical
For Mary Anne the inclusion of play equipment, and outdoor activities is important but it's also equally important to think ahead.
She said: "Sturdy, adaptable pieces of play equipment and garden furniture that can grow with your family, and possibly even be re-appropriated later can be a great way to get the most out of your garden. Keeping this in mind when choosing and buying for your garden can help reduce the amount of costly alterations in the future.
"If you have the space, a shed can be a great way to allow practical storage of outdoor items, such as smaller play items, additional furniture and garden maintenance equipment. This does not need to be an eyesore, and depending on size and use of space can even be combined into a garden room.
"Recognising how likely you will be to maintain the space is also an important practical consideration. If you are likely to be short of time, as many of us are, consider plants that are content with the right conditions and an annual trim. Bulbs and flowering perennials which will continue to delight year after year with minimal effort are also a good option, and utilising raised beds can help make maintenance a little bit easier.
"If you love to mow your lawn, keep it and enjoy it. However, lawns are very high maintenance and can become overwhelming when we feel obliged to have one. If you live near a park or open space, consider whether all of your lawn is really necessary. If not there are no-mow options such as using herbs and mosses as ground cover, as well as the option to really utilise that space to its full potential."
"Turning your garden into a hub for wildlife can be fun for all the family. Attracting different kinds of bugs and animals is entertaining, educational and good for the environment" said Mary Anne, adding: "It will give you and your kids an opportunity to learn about the different kinds of wildlife indigenous to your local area.
"Providing a diverse mix of plants and environments is a great way to make your garden wildlife friendly. The addition of a tree, even a smaller one or just a birdhouse, can attract lots of lovely birds to your garden."
Mary Anne also suggests including a hedgehog house or squirrel feeder as this can go a long way to widening your garden ecosystem.
She explained: "Having some water, such as a bird bath, available to accommodate your visitors will keep them coming back. Consider setting up a wildlife camera to capture all of the magical moments.
"One more way to attract more wildlife is to create a 'bug hotel'. Making a bug hotel is a fun crafting activity for the kids to get involved with in and of itself. Having it on display in your back garden will attract different kinds of bugs, and will allow your kids to check the back garden every day to see what critters have stopped off at the bug hotel that day."
5. Make a grow your own zone
For those who like the good life Mary Anne believes a fruit and vegetable patch "will get the entire family working together".
She said: "You can teach your kids how to garden and they can watch the plants grow over time and help you cook them up later- a great way to bond and introduce them to a new hobby.
"That's not to mention that growing your own food is both cost-effective and eco-friendly, too. It can help you cut down on your food bills, and it helps to reduce the carbon emissions that arise out of the transportation of fruits and vegetables to the supermarket shelves.
"Don't worry if you are working with a small space as there are still plenty of options for fruit and vegetables to grow such as lettuce, beans, kale, tomatoes and currants, in terms of soil I would recommend using compost soil and general organic matter."
Add a little magic to your outdoor space with a fairy garden, something Mary Anne thinks every family should have.
"A fairy garden is a chance to experiment, get creative and add a magical touch to your garden that even the adults will appreciate.
"Let your imagination run wild, imagine where a fairy would be in the garden and create them a little 'home'. There are many items that can be bought to create the effect, such as toadstool houses, fairies and their furniture, but the effect can be done without spending at all! You can use twigs and pieces of bark, repurpose old, broken garden pots, or any other materials you have lying around.
"Anything goes with a fairy garden, pebbles, shells, acorns, gnomes and craft materials such as bunting, fake mushrooms or butterflies, it's entirely up to you."
"A pond or fountain is aesthetically pleasing and tranquil, the perfect way for you and your family to escape the hustle and bustle of a town or city" said Mary Anne.
"Additionally, it provides you with the opportunity to teach your kids the importance of looking after wildlife and our environment.
"A safety net or pond mesh can be installed above water level to child-proof it and allow fish to swim to the surface.
"Planting a pond with a mixture of oxygenators, deep water and marginal plants is also important, as the water will benefit from the variety and lead to a healthy balance. Consider a solar pump to keep the water moving, and some way for small creatures to get in and out, such as a stick, should they fall-in or go for a drink."
8. Add some hanging baskets
If you are worried about your space looking too cluttered, Mary Anne suggests opting for hanging baskets that are an affordable way to create space and add some colour to otherwise bleak walls and fences.
She explained: "Baskets come in various styles and can be store-bought and homemade, they can be plastic, a woven wicker basket or even cone-shaped, the important thing is to get creative with them.
"Changing up the brackets or baskets themselves is a subtle way to inject a little update without too much hassle.
"Most importantly, keep yourself and your family in mind with everything you choose to include in your garden so it is a place where everyone will want to spend their time."