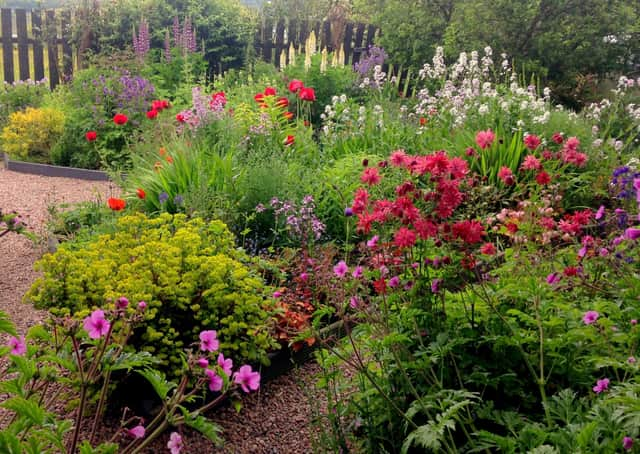 The organic garden, that began as a small cottage garden, has evolved over the past 20 years and now extends to over five generous acres of land. Home to a series of garden rooms, vegetable and herb areas, the garden also displays several meadows, established perennial beds, a willow arch, wildlife pond and a recently planted prairie border.
Owner and farmer florist, Cherry Townsend fell in love with gardening whilst helping her mum maintain the grounds on her weekends off from work many years ago and is now committed to running Kilcoan Gardens organically.
Passionate about growing an array of exquisite flowers and plants within their natural season and in harmony with the environment, Cherry also ensures that the gardens are full of wildlife including Irish hares, bats and badgers with buzzards, sparrowhawks and kestrels flying overhead.
There is no doubt that Kilcoan Gardens is a diverse environment that makes for a truly unique experience, and as gardens begin to embrace the new season, with fresh foliage and bulbs emerging as the days lengthen, there is more time for the keen gardener to spend outside.
Discover Northern Ireland caught up with Cherry for some expert gardening advice and to find out how she keeps up with the demand of spring tasks.
It is essential to keep on top of jobs that cannot wait such as seed sowing. In the flower garden, hardy annuals will give a great display of flowers this summer and provide great value for money. They can be sown in a greenhouse, sunny windowsill or outside if you have prepared the soil well, to create a fine, crumbly texture, although it's best to wait until late April for direct sowing. Cherry recommends sowing in straight lines and lightly cover with sand so that you can distinguish the plant seedlings from emerging weeds.
Water twice a week if it doesn't rain. Outdoor sowing of half-hardy annuals should be delayed until May, the seed packet will tell you which is which.
Summer bulbs such as gladiolas and lilies should be planted now to give you a lovely flowering display by summer. There are some sumptuous, jewel-like colours available as there are with dahlias which are also useful for instant impact in a flower bed. Where perennials take a few years to get established into decent sized clumps, a dahlia tuber planted this spring will create an impressive display with a mass of flowers by late summer.
If you can, plant them first in a pot, stem end upwards, for about six-eight weeks in a light, frost-free place and then plant out – this helps to give them a good start. Place some fish, blood and bonemeal into the planting hole and protect them from slugs until they get established. Once the flowers appear, feed weekly with an organic liquid feed.
With wildlife in mind, it is not too late to plant a wildflower meadow. No matter how small an area you have to spare, it is well worth doing to help support our native bees, moths and butterflies. There are various suitable seed mixes available in garden centres and online. If you are converting an existing section of lawn, a little patience is necessary as it may be a year or two before the wildflowers really take hold.
Yellow rattle sown in the autumn will help to weaken the existing grass and allow the wildflowers to thrive. As soon as the sun comes out in summer, you will be rewarded with the sight of bees, butterflies and hoverflies busy at work and thriving in your garden.
In the vegetable garden, spring is a busy time – don't worry if you haven't much space or time on your hands, you can still have a go. Just start with the easier crops such as lettuce, peas, beetroot and potatoes. These crops will grow quite happily in decent sized containers or, even better, a raised bed and they can all be sown directly outside. It is better to wait until mid to late April when the soil is warmer, which will give a higher rate of germination.
Once the seedlings have emerged for a week or so, thin them out by removing any that are too close together and you will have stronger, healthier plants. Try to protect them from slugs and pests - you can buy nematodes to water into your soil which give an effective biological control and are safe for wildlife.
When they are established, simply water if the weather is dry and, by summer, you will be rewarded with a plentiful crop of healthy produce to enjoy.
For more information about Kilcoan Gardens and other great places to visit when government guidance permits travel again, visit www.discovernorthernireland.com. Northern Ireland's giant welcome will be here for you when the time is right.
For the latest government guidelines on COVID restrictions, visit https://www.nidirect.gov.uk/campaigns/coronavirus-covid-19