Portrush RNLI newlyweds appeal for Christmas support for the charity
A Portrush RNLI couple whose wedding had to be postponed earlier this year finally got married last week.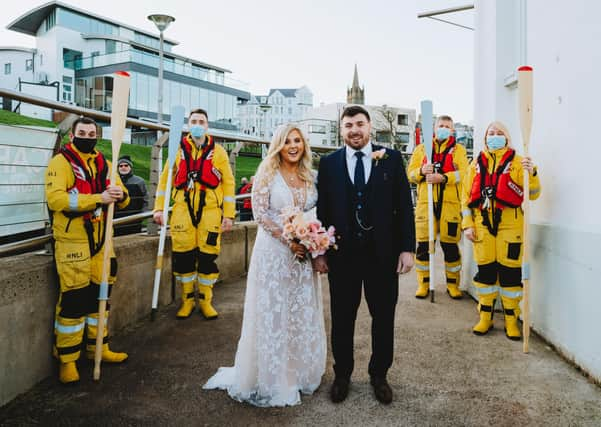 Now, Jason and Lauren Chambers are asking people in county Antrim to support the charity's annual Christmas appeal after volunteers faced an unprecedented year due to the Covid-19 pandemic.
The RNLI which has three lifeboat stations in county Amtrim, has seen a drop in income in 2020 as traditional fundraising activities had to be cancelled.
Yet, during an extraordinary year and while facing new challenges in saving lives at sea, lifeboat crews wearing additional PPE and adapting to restrictions, continued to respond to the pager and work tirelessly throughout the pandemic to keep people safe.
For Portrush RNLI relief mechanic Jason Chambers and his wife Lauren (McGee) who is a professional wedding photographer, 2020 has been a year like no other. The couple who have two children Tyler, 9, and Isla, 5, were originally due to get married on April 18 but when Covid-19 restrictions came in shortly after they returned from their hen and stag parties, they were forced to postpone and rethink their plans.
"The plan was to get married in Portrush and then spend our honeymoon in Portugal, but everything got cancelled," Lauren explained. "When restrictions eased and things started to open up in the summer, we thought we would wait until next April and have the bigger wedding we planned. But, with being a wedding photographer myself and with so many weddings cancelled this year, my diary was already busy for next year. We also said to ourselves what are we waiting for, we just want to get married, so we decided to stick with a date in November that we had arranged when the original day was cancelled."
A stressful few months later and amid restrictions changing regularly, the couple eventually got their big day last week - and much to Jason's surprise and delight, four fully kitted out lifeboat crew members representing the station, were waiting outside the Arcadia in Portrush following the ceremony to provide a socially distant guard of honour to wish the couple well.
AAs stressful as everything was, right up to the last couple of days when we were unsure if the wedding could go ahead, everything seemed to turn full circle and we had the perfect day," said Lauren.
"We could only have 18 guests along with Jason, myself and our two children but we were able to set up a live stream that allowed everybody else who should have been there to watch. Everyone went to such efforts in getting dressed up for the occasion and to join us in the wedding virtually. It was a unique wedding where we were able to incorporate the cake cutting and speeches into the ceremony. It was small but intimate and relaxed and ten times more special. When it was over, we went for take away coffee and sat on the harbour overlooking the lifeboat station. Then we went home, had a take-away and had our first dance in the kitchen!"
With her husband on the lifeboat crew in Portrush, Lauren knows all too well how important it is for volunteers to have the right lifesaving kit and PPE.
"I am very proud that Jason is a volunteer, but I do also worry when the pager beeps and he is called out to save others who are in trouble. There is always such a sense of relief when he helps to bring those in difficulty back to safety but also when he returns home safely himself."
Lauren is also well used to family events being interrupted by the pager, and this Christmas will be no different for the Chambers.
"From the moment I met Jason, the RNLI pager became a part of my life too. The lifeboat has always been in Jason's blood and he comes from a long family line who have been involved in helping to save lives at sea for generations.
"It can be difficult seeing Jason leave when the pager goes, and he heads for the lifeboat. I worry about what he might go through when he is out on a shout. Even at Christmas, we know that he might have to drop everything like the other volunteers in Portrush, Red Bay or Larne and run out the door to go and save someone's life.
"However, I also know how important the crew member's role is and how rewarding it is for Jason to make his contribution. The RNLI depends on the goodwill of others to support the work our volunteer crews do and that is why I would urge people if they can, to give to the Christmas Appeal."
Jason added to Lauren's plea and said a donation to the charity would make a great difference: "RNLI volunteers have had a challenging year but thankfully, with many additional safety measures and procedures in place to ensure our safety, we have remained on call 24/7 throughout the pandemic. We have our standard PPE but now also wear masks and gloves and take extra precautions at sea. We know the extra PPE comes at a financial cost to the charity and during a time when fundraising activity has had to be halted.
"The best Christmas gift RNLI volunteers like me can wish for is a kind donation to our Christmas appeal. Funds raised will provide the lifesaving kit we need when we are at sea and helping to bring someone to safety."
To support, visit: RNLI.org/Xmas