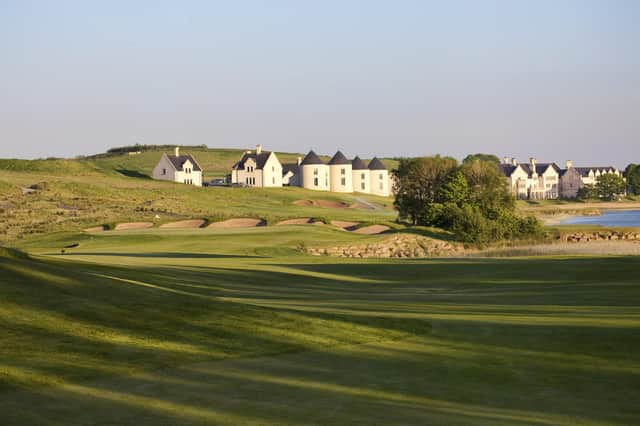 Lough Erne Resort
So when she lay down and declared that the bed in our room at the Lough Erne resort was "amazing - like sleeping on a cloud", I breathed a sigh of relief that a good night's sleep was guaranteed.
We'd checked in as part of a staycation in Co Fermanagh, and had our first experience of how top class hotels operate in the world of Covid-19.
On arrival, a machine at the entrance had taken our temperatures, and we were invited to clean our hands with the sanitizer provided.
Check in was smooth, and we were directed to the lift where signs again advised us to use the sanitizer provided after pressing the button to summon the lift. Only parties travelling together were to use the lifts at the same time.
On reaching the door of our room, we could see - as we'd been told we'd see - that the door had been sealed after cleaning so we could be assured that nobody else had been in the room.
We broke the seal and entered the room to a wonderful view.
Given the fact that I'm 6'5" the bed is always the first thing I check. It easily passed muster, as did the general furnishings. As for the bathroom, it was as good as any I've ever come across in a hotel.
Stanley the superb tour guide at Boatyard Distillery
As we'd bought into Discover NI's Embrace a Giant Spirit campaign, we had a few treats on our itinerary so, having freshened up, we headed into Enniskillen for a trip on the Wee Red Boats, something I had been really looking forward to.
Upon arrival at the Wee Red Boats' berth, we were given instructions on how to operate one and handed a map so we could negotiate our way around Lough Erne, maybe stopping over on Devenish Island. It was lashing with rain when we set off but I was pretty pleased at how quickly I got to grips with steering the boat; but how Diane, who was soaked before she got aboard and hates being on water at the best of times, felt was obvious from her unusual silence.
Until, because of keeping within what seemed to be a 1 mile per hour speed limit demanded by my wife, I stalled the motor.
The least said about what happened next the soonest mended, suffice to say we were soon back on dry land, as boats full of happy parents and smiling, waving children passed us by heading in the other direction.
Learning to steer a Wee Red Boat on Lough Erne
However, I intend to get back on a Wee Red Boat as soon as I possibly can, to complete my voyage around Lough Erne, this time with someone on board who's not such a landlubber.
Next stop on our tour was a visit to the Boatyard Distillery. Now this is a great local success story and a tour that I'd heartily recommend.
But one word of warning - if you want to enjoy it at its best, leave the car at home.
The award-winning venture describes itself as "a farm to bottle" distillery, which is situated on Lough Erne. Founder, Joe McGirr, has used his background in spirits and whiskey production to achieve his dream of creating the first legal distillery in Fermanagh in over 130 years.
You'll find its produce in Harrods, top hotels around the world, Michelin starred restaurants - it's that good. Our tour guide was the brilliant Stanley Vaughan, who entertained us with a fascinating cocktail of jokes, history and local mythology as well as facts on how the gin and vodka were made.
At the end of the tour, having tasted samples of the top-class gin and vodka, we were able to sign and label our own bottle of Boatyard double gin.
When the very next day it was announced that it had won the Tripadvisor Travellers' Choice Award for 2020, it came as no surprise at all.
That evening we dined in sumptuous surroundings in the hotel, where Diane made the waiter aware that she suffers from a potentially fatal allergy to prawns.
The waiter seemed very knowledgeable about allergies; he took the orders, and returned a short time later to say that the famous head chef at the resort - Noel McMeel - was going to personally supervise the preparation of her meal.
Diane's shoulders visibly fell as she relaxed upon hearing that excellent news. Nothing could have been more reassuring than this. Eating out can sometimes be daunting for her, but this gesture made not just for a great eating experience, it made a great weekend even more relaxing as we were eating at the hotel on both nights of our stay and she felt she now had absolute confidence in its catering team.
The meal itself, as you'd expect in a hotel of this status, was wonderful.
Having enjoyed a night's sleep and a great fry for breakfast, the following morning we set off for the Marble Arch Caves, a tourist attraction that I've wanted to visit for decades.
The Covid pandemic had forced some changes and the boat was out of service. As our guide explained, it was impossible to observe social distancing measures in the boat.
Underground, social distancing was again observed as we turned to face the walls of the caves, as groups passed us coming from the other direction. On our way back, other groups did likewise to accommodate us.
What a fabulous journey we had as we walked through a landscape that was millions of years in the making. This ancient subterranean world of rivers and caves, stalagmites and stalactites, is even more awe-inspiring than anything ever conjured up by the imaginations of the likes of Tolkien or Gaudi. It's a must-see for anyone staycationing in Co Fermanagh.
After that we took in the stunning sights and sounds of Florence Court House; at present the National Trust requires visitors to pre-book their visit to these beautiful parklands and gardens, again due to measures required to battle the pandemic. We particularly loved the walled garden which seems to contain every type of flower imaginable.
At the end of such a lovely day, what better way to relax than by opening a bottle of Boatyard double gin in our hotel room, before flopping onto the large cloud-like bed.
Not having any ice, Diane sipped her gin and wondered: "Is gin better without ice? Have I been drinking gin wrong for years?"
Maybe it's not so much a case of drinking gin wrong, and more a matter of drinking the wrong gin?