"Thank you, to Morellis"
A Portstewart charity, which began a Christmas card delivery fundraising service in 1982, has paid tribute to the local business which provided them with a collection point for almost 40 years - and helped them raise over £50,000 in the process!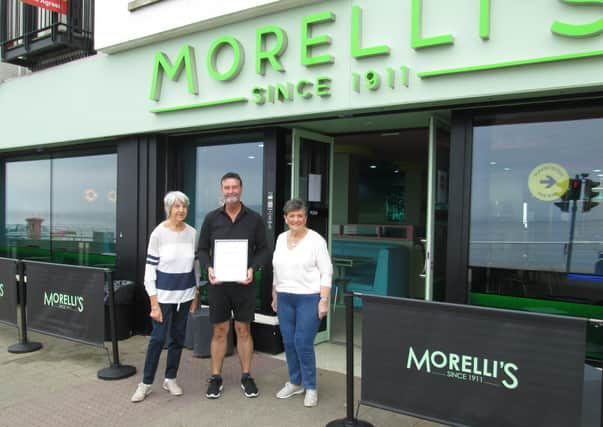 The Portstewart branch of Cancer Research began the festive fundraising 37 years ago, charging just 5p per card back then.
Joint chairperson, Dorothy Friar, said: "We wondered if it was even legal to contemplate such a venture as we were very much aware that we would be taking business away from the Royal Mail/Post Office. We approached the local Postmaster at the time who thankfully gave us permission.
"However, the key to the success of this venture was acquiring a high profile, suitable and convenient location in the town to use as our 'Post Office', where people could bring their Christmas cards with Portstewart addresses, pay us the required fee, and we would agree to deliver their cards before December 25. We were absolutely delighted when we approached the Morelli family and they kindly offered us a prime position in the 'Sundae Garden' as it was called then, free of charge."
Joint chairperson, Claire McCurdy, added: "In 1982, our new fundraiser raised the sum of £225.32.
"This was the start of this fundraiser becoming an annual event for our Cancer Research committee for the next 36 consecutive years. There aren't adequate words to thank the Morelli family for the use of their excellent premises for the 37 years for the collection of the Christmas cards.
"No matter what the weather was like outside, we were so warm and cosy and extremely well looked after by the staff during the two days being provided with very welcoming cups of tea, coffee and goodies.
"The amount raised for Cancer Research in the 37 years from the Christmas Card Delivery Service fundraiser was a staggering £50,311.80.
"We owe the Morelli family a huge thank you for their unfailing kindness and support over the 37 years. We could not have run this fundraiser and raised such a fantastic amount for this very worthy charity without their help," she concluded.