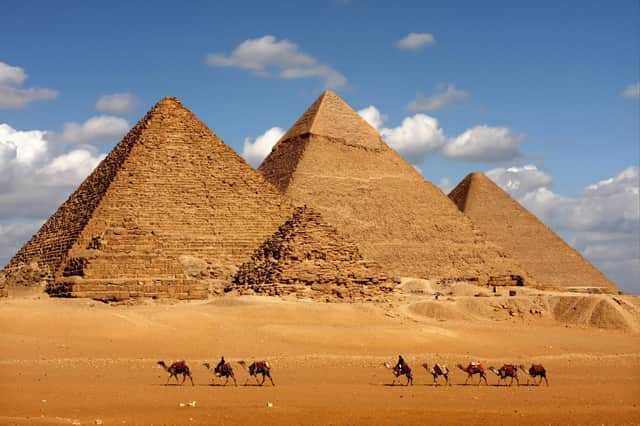 COVID-19 is currently throwing a spanner in the works for many people, especially when it comes to travel. Almost all countries, including Egypt, have imposed strict travel restrictions to prevent the spread of the virus. Here, we'll go over some of the most important things to keep in mind when planning your trip to Egypt.
Cairo, pyramids and the desertThe dream of many tourists travelling to Egypt is to visit the Pyramid of Cheops, see the Sphinx and trek through the desert sands on the back of a camel or dromedary. But of course, the land of the pharaohs has much more to offer. Many travellers go to the resorts at the Red Sea, Hurghada or Sharm el-Sheikh, which is especially appreciated by divers for its underwater world.
In order to avoid unexpected surprises during your trip, it is advisable to arrange all the paperwork before you leave. Almost everyone who wants to travel to Egypt needs a visa. This applies to business travellers and tourists alike. Depending on the purpose of your trip, you will need a different visa. If you want to travel to the country as a tourist or visit friends or family, you can apply for a visa online. Other visas have to be applied for at the Egyptian embassy.
Apply for an Egypt visa onlineTo apply for the Egypt visa online (click here) you need to meet certain conditions:
You need a passport that is still valid for at least 8 months at the time of your arrival in Egypt. An ID-card or Travel Document is not sufficient.
If you want to visit friends or family, you need a letter of invitation.
You will also need a confirmation of the flights and hotels you have booked. You will need to bring a printed copy of the overview and the visa.
If you are travelling in a group (e.g. with family or friends), the visa must be applied for at the same time for the entire group, by means of a group application. (click here )
Validity of the visaYou can apply for a single entry or multiple entry visa for Egypt. Both visas are valid for 90 days and allow you to stay in the country for up to 30 days. With a multiple entry visa you can, unlike with the single entry visa, leave and re-enter the country several times within the 90 day period, and stay in the country for a maximum of 30 days each time. The single entry visa costs a little under 45 Euros (about £37.50) and the Multiple Entry visa a little under 80 Euros (about £75).
Waiting time and processing timeThe visa may be applied for at any time. However, the application will only be processed 30 days before the planned date of arrival. It is also possible to apply for a visa if you have not yet booked a flight ticket. However, you must be able to prove that you have arranged at least one night's accommodation.
If you apply for the visa shortly before your departure, you should take into account that it can take up to 7 days before the visa is granted. If the time before the start of your journey is too short, you can submit an urgent application. There is no guarantee that this will be processed on time, but in most cases an urgent application will result in your visa being issued within two to five days.
COVID-19/coronavirusCOVID-19 is currently a stumbling block for many holidaymakers. The Egyptian government has been allowing international travellers back in since 1 July 2020, and the Egypt visa is also being issued again. Holidaymakers must keep the following COVID-19 rules in mind when planning a trip to Egypt:
Egypt also welcomes non-vaccinated tourists, but they must show a negative PCR or antigen test result on arrival. The test may not be older than 72 hours, 24 hours for antigen tests. It must have been carried out by an accredited laboratory.
Certain airports allow you to arrive without a PCR test result. However, you must then pay for a test to be taken at the airport.
You are required to fill out a health declaration on arrival.
Fully vaccinated tourists only need to fill out the health declaration.