Road safety campaigner says A1 dual carriageway improvements could have saved her son's life as scheme is shelved again
​Road safety campaigner Monica Heaney, whose son Karl died in a fatal collision on the A1 in May 2018, has expressed dismay following the announcement that a potentially life-saving upgrade of the road has been put on hold.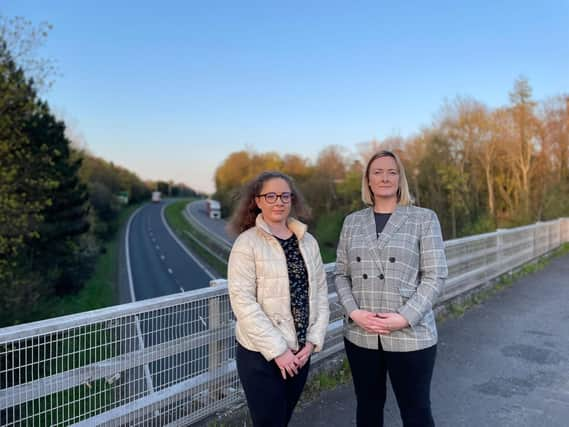 And her sense of disappointment was echoed by a number of elected representatives, including Alliance councillors, Joy Ferguson and Jessica Johnston, who say they just can't believe that enhancing safety on the busiest cross-border route in Ireland is no longer considered to be top priority.
The scheme along the A1 between Hillsborough and Loughbrickland includes the provision of new grade-separated junctions, the closing up of all gaps in the central reservation and the provision of a continuous central reserve safety barrier along the route.
The grieving mother says that had these enhanced safety measures been in place when Karl was travelling along the A1, he would still be alive today.
She pointed out that enhanced safety provision on the busy route has been in the pipeline for many years: "The original A1 improvements were published in 2011. We are coming to the end of 2023 and phase 2 has just been deprioritised. This is not good enough. This road is one of the most dangerous roads in Northern Ireland and it should be a top priority. People like my son deserve better from DfI and the Executive.
Councillor Ferguson said she simply could not understand why other schemes had been given priority over the A1 Phase 2 scheme: "The Department for Infrastructure has ranked new projects that are 'under consideration' with a greater priority than existing infrastructure improvements that urgently require upgrades.
"Since 2011 there have been over 500 collisions and over 20 fatalities, with many more seriously injured. This road must be given greater priority. Despite previous Ministerial approval and a Public Inquiry, the need to upgrade this road has never been greater. The views of the public, who have been calling for this upgrade for years, must be respected."
Sinn Féin councillor, Kevin Savage was just as unhappy about this latest delay: "Much-needed improvements to the A1 will only be considered once the regional strategic transport plan has been confirmed, and a decision made by any future Infrastructure Minister as well as funding being confirmed.
"This will be deeply disappointing to those who have campaigned on this issue, as well as those families who have lost loved ones on the A1.
In correspondence to the ABC Council, a senior DfI representative stated: "There are a number of reasons why the prioritisation of projects currently in the pipeline was necessary, including the challenging budgetary position and constrained resources (in terms of finance and staff) and, importantly, the Department's commitments under the Climate Change (NI) Act 2022.
"This combination of factors has changed the landscape considerably, meaning the continued 'business as usual' delivery of the major roads programme as it was previously set out is no longer sustainable nor appropriate."
A meeting between DfI and the ABC Council will take place on September 18 with the issue likely to be raised.