Nathan's Donard School Mourne trek
​FORMER Donard School student, Nathan Pierson, can be incredibly proud of himself, having completed a gruelling 38-km Mourne trek from Rostrevor to Newcastle, as a fundraiser for his beloved former school.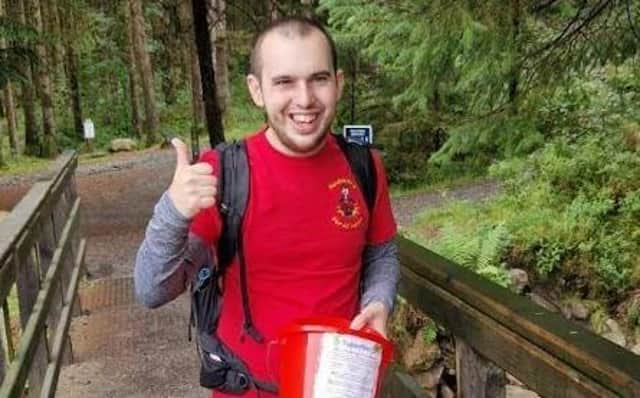 ​Nathan, who has autism and verbal dyspraxia, is living proof that determination can 'move mountains' – so to speak – and it took him a full 10 hours to complete his challenge last Saturday (August 26).
He commented: "I feel so proud of myself – I can't believe I walked the whole Mourne Way from Rostrevor to Newcastle, to raise funds for Donard Special School.
"The money raised is for them to help everyone with special needs learn new skills, and help them achieve their dreams while raising awareness about all kinds of special needs.
"Donard School is an amazing and brilliant school, with friendly staff always welcoming you into the school with open arms, and the pupils always enjoy being pupils at Donard, Including myself.
" Any support and donations counts, so make a wee donation so I can raise loads of funds for my favourite special school, Donard."
On a par with his beloved Mournes, Nathan's stunning photographs can certainly be described as being "of outstanding natural beauty".
Nathan explained why he is so passionate about capturing the beauty of the Mournes and other stunning locations: "I really enjoy every minute of my photography as it is relaxing me, and I see loads of photo opportunity through my autistic eyes.
"Photography inspired me to learn new skills and meet loads of new friends and followers."
The young man's remarkable pictorial work was recently showcased as part of a photographic exhibition at Newcastle Library.
The Chronicle met up with Nathan as the exhibition was drawing to a close, and the talented photographer was pleased to report that he had sold the bulk of his outstanding collection.
Nathan is still receiving donations, and he will reveal his 'secret total' to Donard School next week!
As things stand, he has raised an amazing £6,000 – when his original fundraising target was £500!
To donate money, visit www.justgiving.com/crowdfunding/supernatwaychallengefordonard