Wedding anniversary tea raised £8,000 for charity
​FOUNDER of charity 'FASD Awareness NI' and tireless fundraiser, Alison McNamara has raised close to £2,000 over the past couple of months, and she has many people to thank for such an outstanding amount – not least of all football legends Jamie Carragher and Deiter Haman.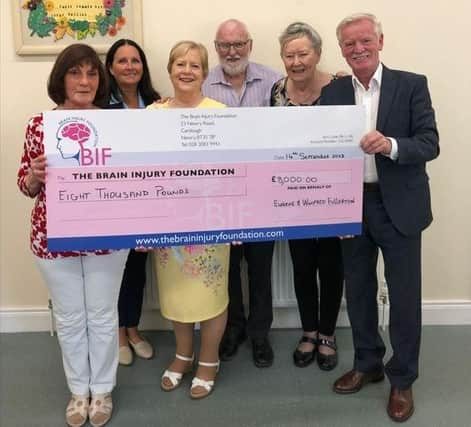 ​'FASD' stands for Foetal Alcohol Spectrum Disorders, and the Kinallen mother of two founded the community/lobbying group with her husband Brian to raise awareness of the dangers associated with alcohol consumption during pregnancy.
As the adoptive mum of two boys affected by FASD – Jordan (12) and Reece (13) – it is a matter of personal despair to the English-born former nursery nurse that there isn't more awareness around this issue.
Alison organised a football-themed sponsored walk on July 30, with the participants walking from Windsor Park to The Oval, then to Seaview football stadium and finishing at Solitude.
The walk was led by Andy Loughran, from East Belfast, who has first-hand experience of the damage FASD can cause as his adopted daughter was born with the condition.
The sponsored walk raised an amazing £2,421, with Alson's son Jordan raising an impressive £200 all of his own!
f the sponsored walk which took place on sunday july30th. They walked from windsor park to the oval where utv interviewed them. Then onto seaview and finished at solitude. The walkers led by Andy Loughran raised £2421 of which Jordan raised nearly 200 pounds too. All the lads wore their NI team shirts, it was fantastic to see them all.
Friday sept 8th saw us meeting 2 Liverpool legends Jamie Carragher and Dieter Hamman at the Crowne Plaza who wore our tshirts and helped us to rock red for fasd day. Its been my dream to have a celebrity wear one of our tshirts and 23 Jamie Carragher foundation made that dream come true. Saturday september 9th we had a charity evening at Square One in Dromara where we raised a staggering 502 pounds doing a raffle. Oshays Brain Domain NI would like to thank everyone who has helped and supported us. All monies raised goes to family fun days out for our fasd children and their families. I will continue in my quest to raise awareness of FASD.