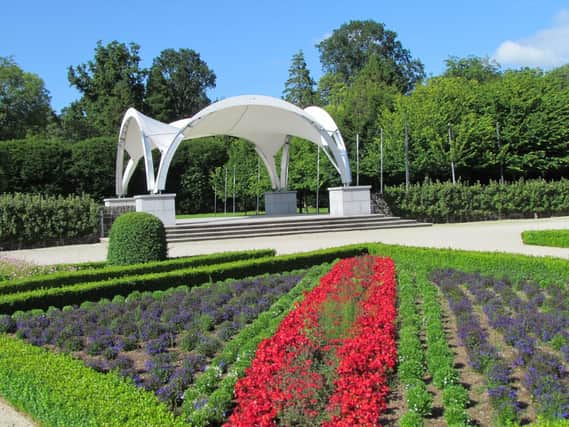 The motion proposed by Antrim Ulster Unionist Councillor Leah Smyth was approved at a remote meeting of the council on Monday evening.
Cllr Smyth said: "This Council wishes to pass on our deepest sympathy to Her Majesty Queen Elizabeth on the passing of HRH Duke of Edinburgh. Our nation mourns with her.
"In recognition of his lifelong dedication to his Royal duties and commitments, as well as his service in the Navy during WW2, this council wishes to place a permanent memorial to Prince Philip in our borough as a mark of respect and remembrance."
Cllr Smyth suggested that a statue of His Royal Highness should be erected at Antrim Castle Gardens and a bursary established in his memory.
She called for the council to form a working group to develop these ideas and take them forward.
She reminded councillors that by the time Prince Philip retired from Royal duties in 2017, he had carried out more than 22,000 solo engagements and given more than 5,000 speeches.
Clllr Smyth noted the "massive impact" on young people's lives through the Duke of Edinburgh Award Scheme.
"Regardless of your background, it is hard not to feel admiration for his achievements and the impact he has had on so many," she said.
Seconding the proposal, party colleague Councillor Robert Foster added that Prince Philip's "strength of character has been an inspiration to many".
He described the Duke of Edinburgh Award Scheme as a "ground-breaking initiative" when it was first established and continues as such 60 years later.
"I firmly believe a permanent memorial should be placed within our borough and there should also be a bursary in his name."
The motion was passed unanimously.
Michelle Weir, Local Democracy Reporter
Click here to read: Antrim and Newtownabbey book of condolence tribute to Prince Philip
Thank you for reading this article. We're more reliant on your support than ever as the shift in consumer habits brought about by coronavirus impacts our advertisers. Please consider purchasing a copy of the paper. You can also support trusted, fact-checked journalism by taking out a digital subscription of the News Letter.