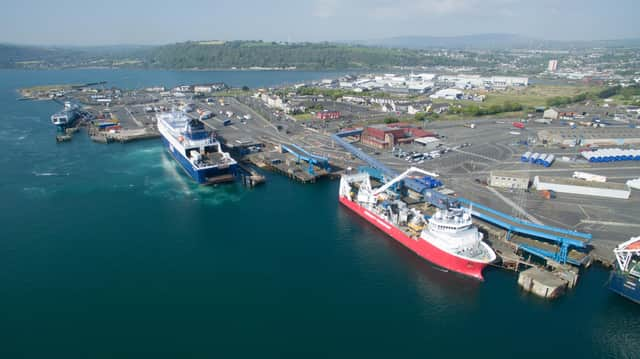 Larne Harbour.
The government has announced it intends to create up to 10 Freeports across the United Kingdom, including at least one in Northern Ireland.
Freeports are secure customs zones where business can be carried out inside a country's land border but where different customs rules apply.
The UK Government has stated that Freeports will benefit from simplified customs procedures, duty suspension on goods and a package of tax reliefs. Sites can be located inland as well as adjacent to ports.
Council officers have been attending meetings with other local government authorities, air and sea operators and Stormont departments to "help shape" a potential collaborative Freeport proposal for Northern Ireland.
Speaking at a meeting of the borough council on Monday, the Mayor of Mid and East Antrim, Councillor Peter Johnston, said: "A Freeport is another vital tool to our economic recovery."
Larne Lough DUP Councillor Gregg McKeen stated that Larne should be "put on the map as a Freeport".
"It is like an enterprise zone in a port situation. We as a council should be leading the way and pushing for Larne to become one of those 10 Freeports that is going to be established in the United Kingdom."
Carrickfergus DUP Alderman Billy Ashe MBE said: "This is another vital tool for the toolbox in regenerating this area. I think it would be rather silly of this council to reject the offer to become the Freeport."
Bannside TUV Cllr Timothy Gaston pointed out the location of a Freeport does not actually have to be a port.
He said that the application "should not be curtailed to one place but opened up to the "three areas" of Mid and East Antrim.
Michelle Weir, Local Democracy Reporter.
Click here to read: Council told a dozen officers required for Larne port food-related inspections
Thank you for reading this article. We're more reliant on your support than ever as the shift in consumer habits brought about by coronavirus impacts our advertisers.
Please consider purchasing a copy of the paper. You can also support trusted, fact-checked journalism by taking out a digital subscription of the News Letter.