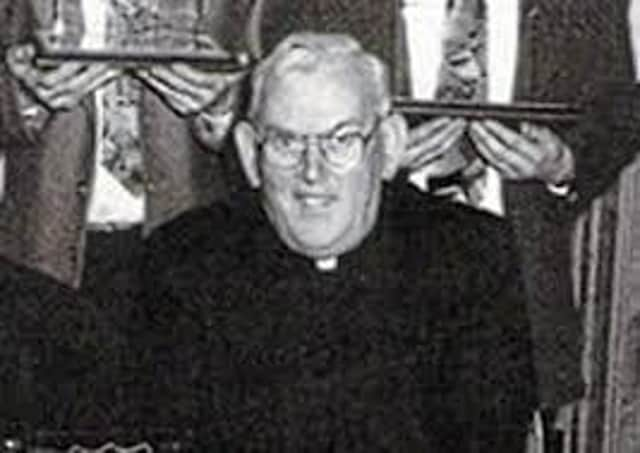 Fr Malachy Finegan.
Lawyers for Co Armagh man Barry McCourt confirmed he is taking High Court action amid claims the Catholic Church covered up abuse perpetrated by the late Fr Malachy Finegan.
The test case was described as an attempt to gain justice for other victims.
Finegan taught and worked at St Colman's College in Newry from 1967 to 1987, spending the last decade as the school's president.
He went on to serve as a parish priest in Clonduff, Co Down.
The priest, who died on 2002, was accused of a long campaign of child sexual abuse, but was never prosecuted or questioned by police about claims made against him.
In 2018 it emerged that the Diocese of Dromore had settled a claim made by one of his alleged victims.
At that stage the Board of Governors at St Colman's condemned the physical, sexual and emotional abuse inflicted by Finegan while working there. The priest's image was also removed from the school's photographs.
At the time the PSNI set up a team of detectives to investigate Finegan's activities.
Nine people were said to have been interviewed under caution, but no direction was made to prosecute anyone.
With a Police Ombudsman inquiry into earlier alleged RUC failings also closed, no findings have been made of any institutional connivance within the Church.
Now aged in his early sixties, Mr McCourt is taking legal action against the Pope, the Archdiocese of Armagh and the Holy See.
His solicitor described the case as "unprecedented".
Kevin Winters of KRW Law said: "The outworkings of both the PSNI and Police Ombudsman investigations has resulted in a huge loss of confidence that anything will ever be done to expose just how much the Church knew about Finegan's activities.
"We have written to police today asking them to look at new evidence to support the gnawing allegation of a systemic cover up at the highest level."
The lawyer, whose firm represents more than 20 survivors of historical abuse in other cases, added: "Removing photographs from walls and digging up mosaics are mere token gestures which go nowhere near remedying the justice deficit here.
"This case is being taken in order to try and address the real disappointment and frustration felt by many who took part in the criminal inquiry."