RAPID (Remove All Prescription and Illegal Drugs) is a health and community safety focused initiative which saw drugs disposal 'bins' placed in locations around the borough.
Installed in late 2021, three disposal units are located in Mid and East Antrim with one at Tesco in Ballymena, one in Tesco in Carrickfergus and one at Asda in Larne.
They allow anyone who has, or comes across, unwanted or unused drugs – whether prescription or illegal - to safely and discretely deposit them in the RAPID bin.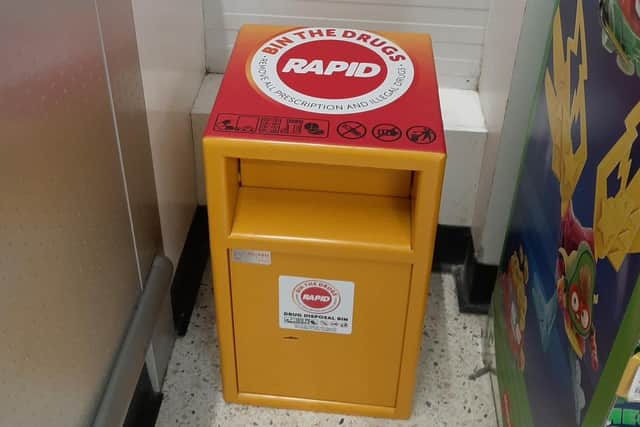 This enables police officers to then dispose of the drugs, ensuring that they are out of 'harm's way' for good.
Each RAPID drug disposal bin has been installed in a place designed to offer as much anonymity as possible to any individual making the deposit.
Police routinely collect and record information on the drugs deposited in the bins; however, no personal information is required or sought.
The overall aim of the scheme is to reduce risk in relation to drug use and availability by providing a means for local people to safely dispose of the substances.
A PSNI spokesperson said: "Police in Mid and East Antrim, in conjunction with partners from Policing Community Safety Partnership (PCSP), Start 360 and the Public Health Agency, are responsible for the RAPID drug disposal bins.
"The bins are emptied every three months (quarterly), with most of the contents to date being prescription drugs.
"However, some of the prescription drugs found have included Diazepam, which would have a street value if placed in the wrong hands."
Most recently, the RAPID bin at Asda Larne was emptied by police on May 19.
A post on the Police Mid and East Antrim Facebook page read: "If you need to safely and anonymously dump prescription or illegal drugs please use these RAPID bins."
Anyone who would like more information on existing RAPID bins or how to contact their local Drug and Alcohol Co-ordination Team or Policing and Community Safety Partnership can visit the website www.drugsandalcoholni.info/RAPID