While Stephen Stewart walked out of Antrim Crown Court after his 12-month jail sentenced was suspended for three years, Judge Roseanne McCormick KC explained that was only because he had spent the equivalent of a 30 month sentence on remand.
With the suspended sentence "hanging over the head of the defendant to strengthen his resolve not to lapse into old ways and practices", the judge gave a clear warning to the 49-year-old that if he re-offended the 12 months could be activated in addition to any other sentence.
"Further more it is my express wish that if this man commits acts of offending that bring him before a Crown Court, it is my stipulation that he is put before me," ordered Judge McCormick.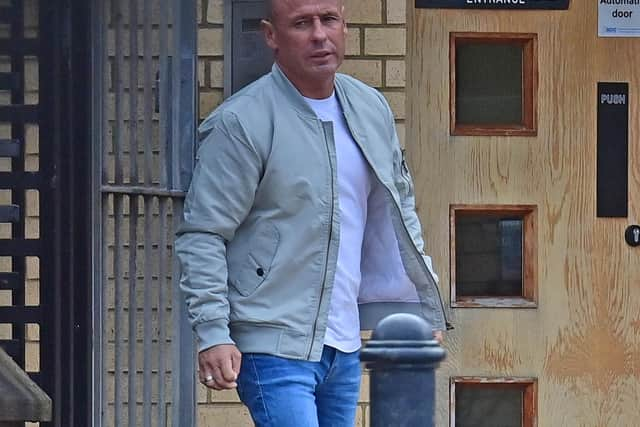 Despite there being "no prospect" of any of the 59 victims getting their money back, the judge said she hoped that the case coming to a close "is some comfort to the many elderly and vulnerable people who helped bring this man to justice."
At an earlier hearing Stewart, originally from Larne but with a bail address at a hostel on the Saintfield Road in Belfast, admitted 55 offences under trading standards legislation including 50 counts of reckless commercial practice, three of misleading commercial practice and two of aggressive commercial practice, committed over a time span between February 1, 2019 and July 13, 2021.
While a raft of fraud charges were not proceeded with, the catalogue of malpractice charges relate to 59 victims, all of whom were elderly, vulnerable or both and amounted to a total sum of £58,990.
Prosecuting counsel Suzanne Gallagher outlined how the amounts the victims paid to Stewart ranged from £80 to £3,500 but that in each case, he was paid for work which was either never completed or not done properly.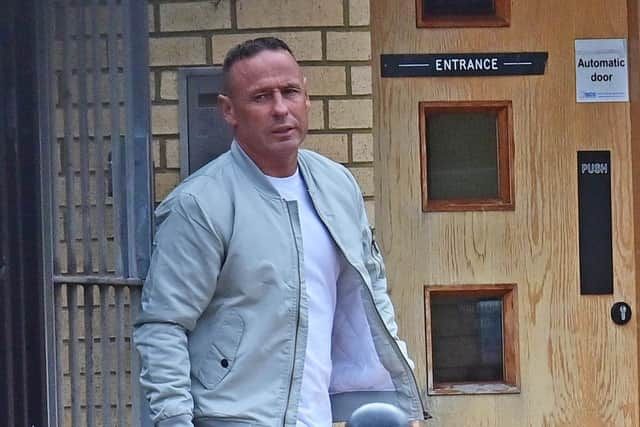 She explained that trading under the name NI Home Improvement and formally SS Services, Stewart's method of business was to "cold call" at household in order to offer services and once prices had been discussed and agreed, he would ask either for a deposit or for full payment upfront for a discounted price.
The offences began to come to light in January 2021 when a householder in the Newtonbreda area reported how a workman had called at their house offering to replace a pipe.
The workman said "he would do it for £500 cash" and extolled the victim to write him a cheque for £300 and withdraw other monies from the cash machine.
The following day however, he contacted the victim to claim the £300 cheque had gone through the washing machine so could they write another one or alternatively, get him the cash.
"He further advised that he would be unable to carry out the work on Friday, January 14 as he had a lot of other outstanding work. He did not give a time for coming to do the work," said Ms Gallagher adding that when the police searched Stewart's home, they found the supposedly washed cheque.
Stewart did concede however "It was definitely me at the door one hundred million percent. I was touting for work" and the following May police were contacted by a 66-year-old victim who had paid Stewart £1,400 for work but never saw him again and found the painter was "unreachable".
Dozens more complains flooded in after the initial charges were reported in local newspapers and in the end, a total of 59 victims reported how they had been duped by Stewart.
M​s Gallagher outlined how Stewart's victims were spread between Belfast, north Down and south east Antrim and while some paid for work never started, other victims had jobs partially completed or the jobs were finished but not to a "satisfactory standard" and when they asked for refunds, Stewart failed to hand over refunds.
That left many of the victims out of pocket to Stewart but also having to spend more time and money finding other trades people to right the defendant's wrongs.
The offences were aggravated, the barrister submitted, given the number of victims, all of them elderly and three of whom have since sadly passed away, the breach of trust and the "prospect of having to give evidence at trial was particularly onerous on the victims given their ages and vulnerabilities".
​"Various descriptions as to the impact are provided such as feeling worried, stressed, annoyed, hurt, angry, cheated, foolish, frustrated, embarrassed, devastated, anxious, upset, manipulated," she told the court although she conceded that Stewart's guilty pleas was a mitigating feature.
Defence KC Neil Connor told the court that according to Stewart, very little of the cash he was paid ended to in his pocket as most if it was used to pay his staff and the buy materials for the ordered jobs.
H​e said that rather than a case of fraud, it was one where Stewart "was always on the back foot, trying to deal with the backlog of work that he readily acknowledges he was responsible for".
"He should have simply stopped taking work on board and dealt with the backlog that has been created," said Mr Connor, adding that Stewart "instructs me to apologise to all of those who have been at a loss".
Conceding "there's no prospect of restitution" for the victims, the lawyer revealed that while "it will be an uphill struggle…he intends to try to re-establish himself but with a substantial and important difference" of not taking money upfront.
In her sentencing remarks, Judge McCormick said she was satisfied given the nature of the offending and the vulnerable victims, "this is highly culpable offending and a high degree of harm has been experienced by many of the elderly and vulnerable people".
"This sort of activity also had enormous implications for the confidence of those people who had engaged him," said the judge, adding that she was mindful of the fact most of the offending came during the pandemic lockdown when the "vulnerable and isolated people who fell prey to this offending" would have been at their most vulnerable.
She continued that she also considered Stewart to be at a "significant risk of reoffending," easily evidenced by the fact that when granted bail, he had breached it within a week and that the breach of trust in the offences affected not just the victims but also "the reputation of all trades persons" who go door-to-door seeking work.
Judge McCormick said while fraudster Stewart, who has 94 previous convictions for theft, forgery, counterfeit, burglary and deception, "is no stranger to the criminal justice system," she warned that if was in the dock before her again, she would activate the suspended sentence.