Trevor Campbell (61) from Bann Road, Ballymoney, had previously contested the case and had criminal damage charges dismissed.
Prosecuting counsel said at approximately 10.50pm on July 11 last year, the injured party was in bed when she alleged the defendant broke into her house at Castledawson and assaulted her.
The lawyer said she woke up to see Campbell standing in the doorway of her bedroom and he told her he had come to get his Alexa.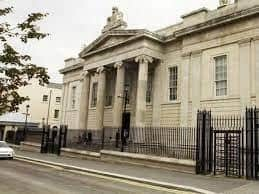 The injured party told him to get out but he went downstairs where she found him unscrewing a TV from the wall.
Counsel said she told him she had phoned the police and he became angry and punched her on the face and pulled her hair.
Police noted strands of hair that had been pulled out as well as bruising on her arms and cut to the corner of her mouth.
When interviewed by police, Campbell denied assaulting the injured party and said he had his back turned to her at all times and he would never assault a woman.
District Judge Oonagh Mullan said it was unfortunate the defendant's record had been blemished by the incident but domestic violence could not be condoned by the courts.
She expressed the hope that both he and his ex-partner could now put this matter behind them and move on.