Footage, which has gone viral on social media over recent days, appears to show a confrontation involving two men near the entrance to the hospital's Emergency Department.
One of the men, who can be seen kicking and punching the other person while they are on the ground, is wearing a Greencastle Rovers tracksuit top.
The club, which plays home games at the Valley Leisure Centre, has moved to distance itself from the incident.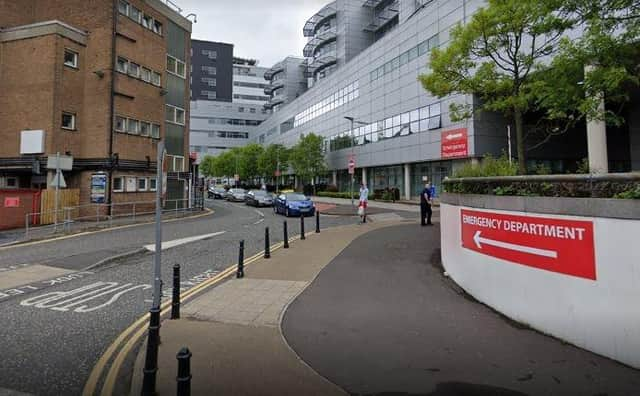 In a statement issued yesterday (Wednesday), a club spokesperson said: "Greencastle Rovers FC has been made aware of a video circulating on social media that suggests the person concerned is associated with the club due to an item of clothing the individual is wearing.
"The club can categorically state that the person involved in this video is not a member of Greencastle Rovers FC and has had no association with the club for a number of years.
"Unfortunately, Greencastle Rovers FC cannot control who wears club branded clothing, in the same way that professional teams cannot do so either, and while fully aware of how this might be interpreted by some, the behaviour of the individual concerned should not and cannot be allowed to reflect badly on the club, its members and those local businesses which support the work that the club delivers.
"This club has numerous hard working volunteers who regularly give up their own time to provide a sporting outlet for a range of football teams with a huge positive contribution across the community. The actions of one individual with no connection to the club or our sponsors should not be and won't be allowed to undermine this. Our members are regularly reminded of their responsibility's while representing the club and this will continue.
"Greencastle Rovers FC unreservedly condemns the behaviour of the individual involved and reiterates that there is no connection between them and the club."
Since the video footage was shared online on March 14, it has been viewed approximately 50,000 times.
Commenting on the matter, a PSNI spokesperson said: "Police are aware of the videos posted online. No report has been made to police at this time."