Paula, who is a former pupil of Lurgan Model Primary School and Lurgan College, returned home from England a few years back to spend her retirement days in the town she grew up in.
Paula has been left shaken after her car was badly vandalised in William Street over the bank holiday weekend three weeks ago.
She explained that she has nowhere to park her car near her flat in Lurgan and felt the car park in William Street would be safe and protected by CCTV.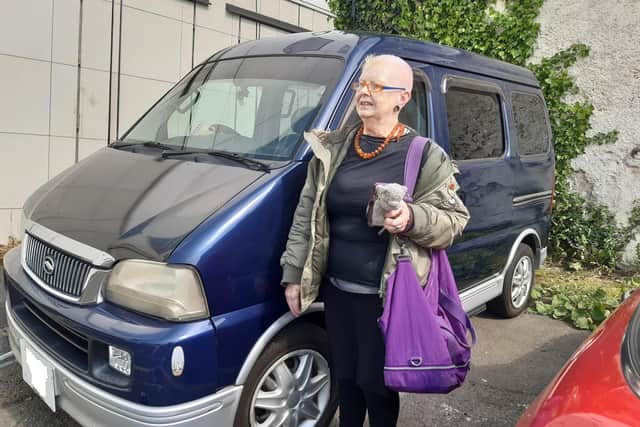 The car park, which is covered in glass, is owned by the Department for Infrastructure and is an overflow car park for the Park and Ride car park at the train station.
Paula explained: "I think people should know their cars are not safe. My car was very badly damaged. It looked like they danced on the roof, pulled off a wing mirror and a window wiper plus the windscreen was damaged."
Ms Stevenson, who has one son, revealed: "I was upset as it was due to be sold for £10,000. My son came over for the North West 200 and I was to go back with him to sell my car. But the sale all fell through when he saw the damage caused to it. That was a big, big disappointment.
"It's all been a very upsetting experience. I have never had a car vandalised before. I didn't realise that would have happened down there, nor is there any CCTV," said Paula, adding she thinks people should be aware of the dangers of parking there and the lack of CCTV in that car park. "The police officer said there was CCTV at the Spar but it doesn't cover the car park. That's very worrying as that is why I left the car – there thinking there at least must be CCTV and if anyone did do anything there would be comeback but that apparently isn't the case."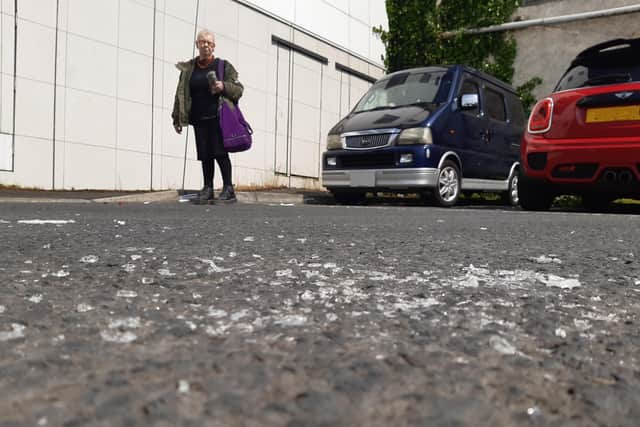 Paula explained she had a house in Victoria Street which is derelict and she had hoped to use the sale of the car money to fix up the house so she could live there again. Though in a dilapidated state, she had been living in the house until vandals started terrorising her and police were called. "The police saw how I was living in that house and managed to organise a flat through a charity group," said Paula, who worked as a nursery teacher for Save the Children during the Troubles, adding that she was grateful for the help of the police.
Paula is no stranger to danger having been a trailblazing female Class 1 HGV driver delivering all over Europe and north Africa, including Tangiers and Morocco. "I wouldn't do that now as it has become very dangerous with drug smuggling and illegals trying to gain entry to different countries," she said.
The PSNI had told her not to drive the car as it was illegal without the wing mirror and she expressed her thanks to Clifford Kerr in Union Street who helped fix the wing mirror. However the body work on her 2004 Suzuki is badly damaged and needs quite a bit of work. Also the windscreen needs repaired. She is searching for a good car doctor to help smooth out the battering her car received.
Paula is so upset over the incident she is considering fleeing Lurgan. "I am considering whether I stay here or not. The money from the sale of the car was to go towards fixing up the house in Victoria Street. It's been derelict for 25 years and it's just falling down. I am having to think whether I stay or go. Friends have left," said Paula, adding that many of them are abroad.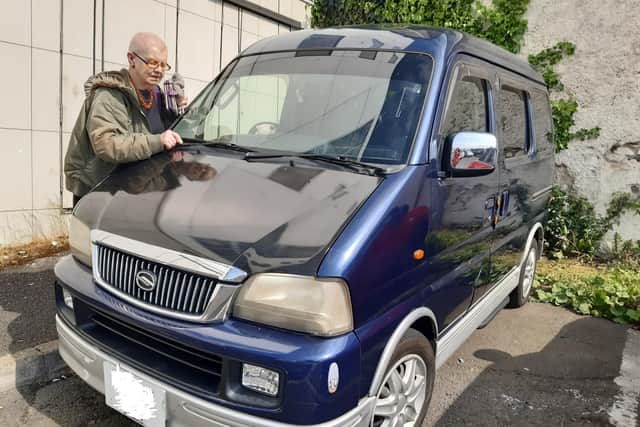 "I am from a Lurgan that was law-abiding, though I am not saying it is not. The ordinary people are lovely, so friendly and helpful," said Paula. "It's a pity. The people are very friendly and lovely as I remember them."
Paula recalls going to a college in William Street (now where St Vincent de Paul is situated). "I studied Domestic Science and then art with Mr Arnold," recalls Paul who then went to 'a lovely new technical college' in Lurgan to study art – now the Southern Regional College. "I remember when Prince Philip came to officially open it. He came to see the art students and I was standing beside him. That was a lovely memory of the technical college and then I got into the Art College in Belfast," said Paula.
A PSNI spokesperson said: "Police in Lurgan are appealing for information and witnesses in relation to a report of damage being caused to a car."
Inspector Browne said: "A report was received that damage had been caused to a wing mirror, the windscreen, and the roof of a vehicle in the William Street area of the town."It's believed the damage was caused sometime between 6pm on Friday 28th April, and 1.30pm on Tuesday 2nd May. "Enquiries are continuing, and we are appealing to anyone who might have any information which could assist us, to get in touch. "The number to call is 101, quoting reference number 1807 of 02/05/23."
Alternatively, information can also be provided to the independent charity Crimestoppers on 0800 555 111, which is 100% anonymous and gives people the power to speak up and stop crime.
A Department for Infrastructure spokesperson said: "The Department is sorry to hear about the damage to a vehicle in the Wesley Place car park. The Department is not liable for any damage to vehicles whilst parked in one of its car parks and the matter should be referred to the PSNI for investigation.
"There is no CCTV within Wesley Place car park and the Department has no plans to install a system at the location. The car park is cleaned twice weekly, at which time any litter and broken glass will be removed."