Stephen McCullagh, whose address was given as Woodland Gardens in Lisburn, appeared via videolink from Maghaberry Prison.
Members of Ms McNally's family were present in the court on Thursday (February 2), which heard extensive details from the investigating police officer, who said he believed he could connect the defendant to the charge before the court.
Defence barrister Craig Patton questioned the evidence which led the police to determine McCullagh was a suspect rather than a witness, as had been previously stated by the police on Christmas Eve.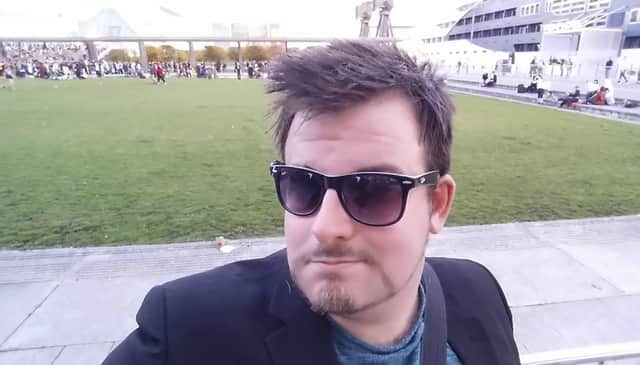 The investigating officer, Detective Chief Inspector Neil McGuinness, said: "This is a very complex case with new evidence coming out from new lines of enquiry on an almost hourly basis.
"There have been various strands of new evidence, including witness evidence, electronic cyber enquiries, and CCTV footage."
Mr McGuiness went on to explain that McCullagh was initially rejected as a suspect on Christmas Eve after it was stated he had been live streaming a YouTube event at the time of the murder. However, he alleged that the event had been pre-recorded on December 13 and streamed as if live between 6pm and midnight on December 18, the time of the murder.
Police also said additional CCTV footage from a Translink bus between Dunmurry and Lurgan on the evening of December 18 had been studied by the police.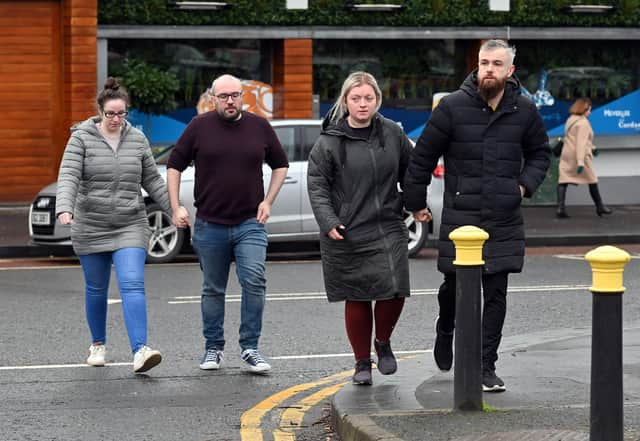 "We obtained further CCTV of a person matching the same description of the suspect in CCTV footage from Silverwood estate which was released to the public," said Mr McGuiness.
"A man is seen getting on to a bus at Kingsway in Dunmurry after approaching the bus stop from the Lisburn direction. That individual is wearing a covering up to his nose and takes great care to pull his hat down.
"CCTV inside the bus is very good quality and we have images of the male getting onto the bus and interacting with the bus driver.
"He is carrying a large green Asda Bag for Life and you can see what we believe to be a further black bag inside.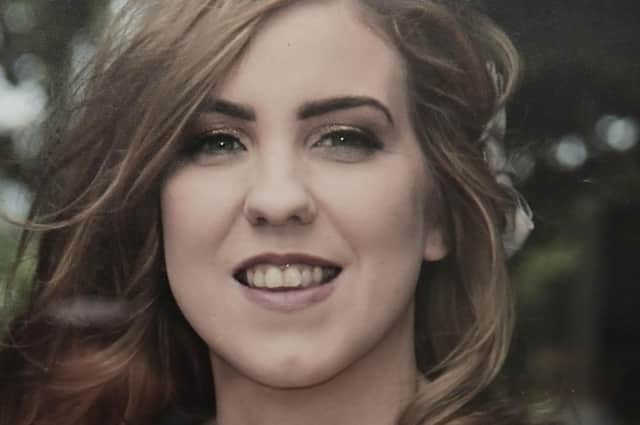 "The person gets change and drops it on the floor. As the person bends down he removes a black glove and is shown wearing a yellow glove underneath. He is double gloved. The significance is that I have received from the crime scene a glove mark in Natalie's blood which is consistent with a Marigold washing-up type glove."
The investigating officer goes on to tell the court that police have CCTV footage of this individual on the bus for 35 minutes before disembarking in Lurgan. CCTV footage then shows him on Market Street in Lurgan, the nearest bus stop to Natalie's house on a Sunday evening,
"We have him at various and multiple locations walking from Market Street, across at the War Memorial, past the police station, into William Street and Lough Road at 8.42 pm. He walks past the junction and out of shot and then returns and the bag for life is not seen but a black rucksack is across his shoulder."
Police had previously released CCTV footage of a suspect carrying a black bag approaching Natalie's address in Silverwood Green.
Police also obtained footage of an individual leaving Silverwood Green at 9.30pm and alleged they were in different clothing.
"On closer examination it is my belief he changed clothing," continued the Mr McGuiness. "But his gait and walk is the same as the person who appeared 40 minutes earlier. We then have that person walking up to Lurgan town centre, where he approaches a taxi outside Fa Joe's public house and engages the taxi driver in conversation, saying there had been a change of plan, that his mother was ill and he needed to go to Lisburn."
It was claimed the taxi had been booked on an app and the person who had booked the taxi then contacted the company to say his taxi had not shown up.
"We believe the person who left Silverwood Green took the taxi belonging to another person," claimed the investigating officer.
"The taxi driver didn't know the address he had taken the person to but agreed to take two detectives to where he believed it was. He took us to a road adjacent to the road Stephen McCullagh lives.
"The taxi company has GPRS on the vehicles. We obtained that and analysis suggests the taxi drove to outside Stephen McCullagh's address at 11.13pm on December 18. It is my assertion that Natalie was murdered at around 9pm that night.
"Mr McCullagh's personal mobile phone device had no activity from 6pm. It was manually swiped open at 11.16pm, three minutes after the taxi left the suspect off at his house. Our examination has shown there was no activity on that phone from just before 6pm and there were no cookies on the device. We don't believe that phone was used at all in those five hours," the officer alleged.
The investigating officer then went into extensive detail about a 'live stream' Youtube event that McCullagh had announced to the 37,000 subscribers to his VoteSaxon07 YouTube channel.
"At 4pm on the day Natalie was murdered, Sunday December 18, McCullagh sent a message out to his subscribers that he was going to have a broadcast live at 6pm," he said.
The court heard that following investigations by the police cyber unit and the National Crime Agency in London, it was alleged that the event had been pre-recorded and then streamed as though it was live.
"That has been put to McCullagh and at the conclusion of the police interview process he gave us a written statement and has acceded that the live stream was not live and was recorded by him on December 13-14 and the stream put out that Sunday, December 18," said Mr McGuiness. "He said he was at home on his own and fell asleep.
"There are other lines of enquiry. It is very complex and we are following pathways and areas but this is the main thrust of the investigation."
The court also heard that McCullagh had met the McNally family on two occasions prior to Natalie's death and had been in contact with Natalie on December 18 about the live stream Youtube event.
Raising concerns about the commission of further offences and that the defendant would abscond, and that there was a risk he would interfere with the investigation, the PPS lawyer asked District Judge Rosie Watters to reject the bail application.
"Every detail was thought through and it was only through cyber evidence that he hasn't got away with it," claimed the PPS lawyer. "He will be desperate at this point.
"Over the last six weeks he has behaved in such a way that he believed he had got away with it. He has shown he is capable of deception beyond imagination.
"Just last week he visited the McNally home and left his mobile phone there and said he forgot it. That phone was recording what was happening in the home. We believe he wanted to see if there as any suspicion about him. He is a dangerous person."
The investigating officer added: "This is shocking and hurtful to the McNally family. They welcomed this man into their home.
"He was introduced to the family on two occasions but he has been in constant contact with the McNally family and enquiring about the progress of the investigation.
"I believe he would try to influence any witnesses and deter people who have yet to come forward and assist with our enquiries."
Defence barrister Craig Patton, who appeared remotely via videolink, raised concern about the strength of the rhetoric used by the PPS, saying: "I am not immune to the public feelings regarding this or the distress the family are going through. The dramatic language used by the Prosecutor doesn't help when applying for bail."
Dismissing the application for bail, District Judge Rosie Watters said: "I am very concerned. I don't think I have come across a case so complex.
"If the police are right, this was a cold blooded attack that was meticulously planned with tragic consequences.
"I am concerned about the risk of further offending. If he can carry out an attack like this, if the police are right, who knows what else he could be involved with.
"There is a risk of absconding, not turning up for his trial and a risk of interference with witnesses."The case was sent to Craigavon Magistrates Court, with the defendant to appear via videolink, on February 24.