Alfie Kelso (18), a student, of Annaghquin Road, Dungannon, was also fined a total of £150 with a £15 offender's levy for failing to stop, failing to remain and failing report a damage only accident.
Dungannon Magistrates Court heard on Wednesday that at approximately 2am on November 20 last, police received a report from a member of the public about a single vehicle collision involving a VW car at Far Circular Road.
Prosecuting counsel said police found the telegraph pole hanging over the road with severe damage to the car. Both registration plates had been removed, but enquiries identified the defendant as the owner.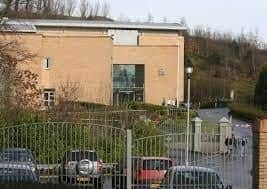 The lawyer said the member of public said he saw two males running from the vehicle, shouting: "Dungannon Swifts would be our best bet."
Counsel said the two plates were later located about 500 metres from the collision site.
She said the defendant was arrested at 2.30am and told police that he had been driving home from a night out and turning down the car radio had caused the collision and was nothing to do with consuming alcohol.
Admitting the offences Jarlath Faloon, solicitor, explained the defendant had been 17 at the time and "did not handle this very well."
Mr Faloon said the defendant is doing a BTech course at Dungannon Tech and hoped to go on and study elsewhere.
He pleaded with the court not to impose a lengthy disqualification as Kelso helped his father on the farm and with taking his siblings to school.