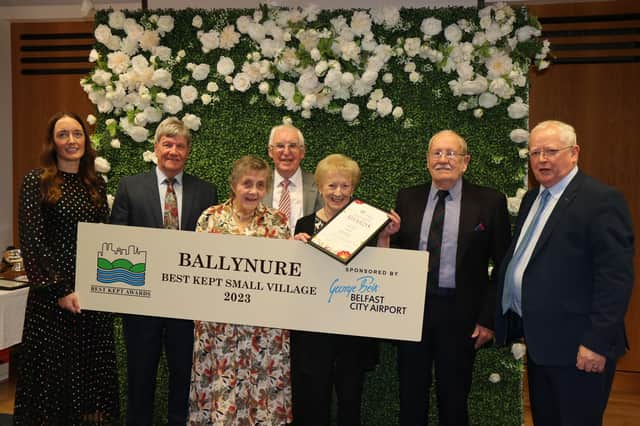 Antrim, Randalstown, Ballynure, Toome and Mallusk pick up 'Best Kept' awards
Antrim and Newtownabbey Borough Council's towns and villages have been recogised as some of the cleanest, greenest and most beautiful spots in Northern Ireland.
Published 25th Oct 2023, 11:20 GMT
Updated 25th Oct 2023, 12:48 GMT
Several locations in the borough picked up accolades at the 2023 Northern Ireland Amenity Council (NIAC) Best Kept City, Town, Village and Housing Area Awards.
Over 100 representatives from Northern Ireland's council areas, Radius Housing and NIHE gathered at Mossley Mill on October 18 for the Awards, organised by NIAC and sponsored by George Best Belfast City Airport.
The coveted accolades went to:
- Best Kept Large Town: Antrim
- Best Kept Small Town: Randalstown
- Best Kept Small Village: Ballynure
- Best Kept Large Housing Area: Neilsbrook, Randalstown
- 'Best of the Best' winner: Randalstown
- Best Community Achiever: Una Johnston (Toome Community Group)
- Best 'Welcome Award': Mallusk
The Mayor of Antrim and Newtownabbey, Councillor Mark Cooper said: "I was delighted that our borough had yet another very successful year and picked up seven awards in this prestigious competition.
"Our communities are at the heart of these awards and I'm delighted their hard work and reputation for going the extra mile to make their area a more attractive place to live has been recognised.
"Special mention must go to Randalstown for being crowned overall Best Kept Small Town, Best Kept Large Housing Area and the Best of the Best.
"We were thrilled to host this fantastic initiative at Mossley Mill and I thank the Northern Ireland Amenity Council for their wonderful event."
The Awards are now in their 66th year and celebrate areas that are taking action to protect and care for their local environment, creating safer, cleaner, healthier and more sustainable places to live, work and play.
Participating towns, villages and housing areas are judged on a range of criteria, including floral displays, grass roots environmental projects and an absence of litter and graffiti. Judges also look for underlying evidence of community participation in environmental initiatives, including the promotion of recycling and wildlife conservation.