Ballycastle Community Café cooks up a storm using food destined for landfill
A pioneering new community cafe supported by Causeway Coast and Glens Borough Council has opened its doors in Ballycastle – using a menu made up entirely of food that would otherwise have gone to waste.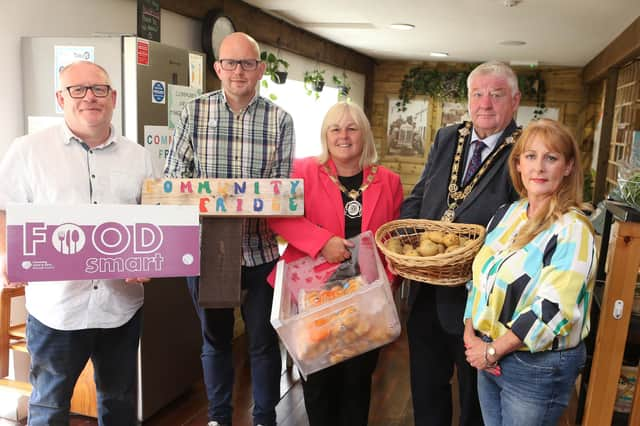 The volunteer-led Ballycastle Community Café uses surplus or unwanted food donated by the community and local businesses, which was destined to be thrown away. The venue provides a warm, welcoming environment for people to come together and enjoy affordable meals.
The cafe – one of the first of its kind in Northern Ireland – is run by Ballycastle Community Hub, a charity which works to support the environment and the local community. Located within the grounds of Ballycastle garden centre on Castle Street, it provides a selection of hot meals and home-baked goods, with the menu varying depending on the food that has been donated.
The initiative spun out of the community fridge programme, which allows people to share fresh food to save it from going to waste. This surplus food can come from supermarkets, local food businesses, producers, households and gardens.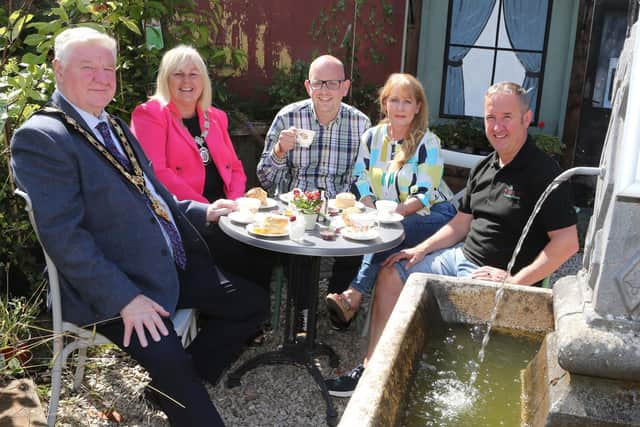 Mayor of Causeway Coast and Glens, Councillor Steven Callaghan said: "I want to pay tribute to the dedicated team of volunteers for championing sustainable food and demonstrating how food waste can be put to good use. This is a fabulous initiative that not only helps protect our environment by reducing food and plastic waste, but also offers social benefits by bringing people together to share food and connect.
"I also want to acknowledge the work of Council staff who have supported this very worthwhile project and other community fridges spread across the Borough. I would encourage residents to donate any unwanted or surplus food to their nearest community fridge."
Under the FoodSmart scheme, Council has assisted in the set-up of several community fridges across the Borough, including Ballycastle, Bushmills and Ballymoney. There are also community fridges operating in Cloughmills, Dungiven and Magilligan – more than any other Council area in Northern Ireland.
Dessie Smyth, founder and manager of Ballycastle Community Hub, said the community fridge programme is about empowering people to tackle food waste and eat more sustainably.
He added: "More and more food is being thrown away needlessly and we want to help educate people about food waste and get them talking about it. Since opening the café back in June, it has been really well supported by the local community. Our menu changes every few days and we are always trying new things.
"We are also delighted with the aid we have received from Council, which has included mentoring support and opportunities to apply for funding that we had not been aware of."
If you would like more information about setting up a community fridge in your community, please contact our Environmental Resources Team at [email protected] or telephone 028 2766 0248. You can also find useful information about how to set up a community fridge and the Community Fridge Network on Hubbub's website at https://hubbub.org.uk/community-fridge-network