Catering for 40,000 residents, the new facility will be located directly opposite the current site in Carrickfergus.
As well as increasing the amount of waste segregation by over 20%, the centre will help Mid and East Antrim Borough Council to divert over 1,000 tonnes of waste from landfill each year.
It will also result in more efficient waste compaction and haulage with new material streams for recycling and a reduction in carbon emissions.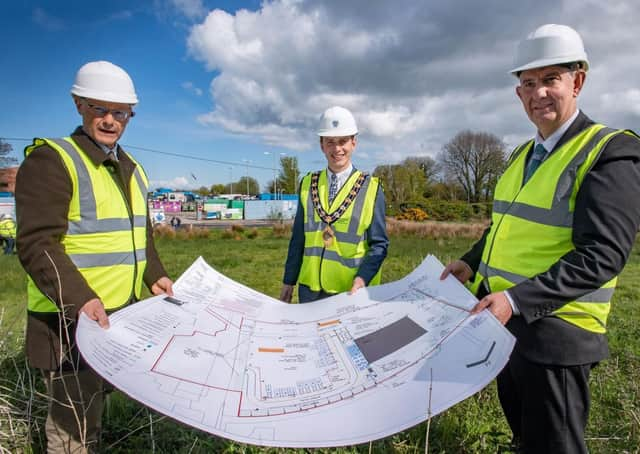 Planning approval for the Sullatober household recycling centre development was granted in December 2020, with council securing £995,000 from the Department of Agriculture, Environment and Rural Affairs (DAERA) for the project.
Speaking following a visit to Sullatober this week, DAERA Minister Edwin Poots said: "This £1m investment is part of our Household Waste Recycling Collaborative Change Programme and brings the total invested so far to almost £5m.
"The most recent Northern Ireland household waste recycling statistics were published on 22 April 2021 for the period 1 October 2020 – 31 December 2020. The figures reveal that the household waste recycling figure for the last 12 months is 50.7%.
"I am determined to build on this success with such investments which will help to increase recycling, as well as the range of materials that can be recycled. This investment alone will mean over 1,000 tonnes of waste will be diverted from landfill each year.
"The money also helps improve how waste is separated and the quality of materials collected to support local processors and our circular economy."
It is expected that work will commence at the site in coming weeks and last until February 2022.
The Mayor, Councillor Peter Johnston, said: "The new Sullatober household recycling centre will provide a much more efficient service for the residents of Carrickfergus and is a welcome milestone in council's key strategic aim of creating a sustainable and healthy local environment which is protected for future generations.
"Council will continue to keep local residents updated as the development progresses and in order to minimise any disruption during the construction period. Users can plan their visit to the site by using the online booking system at http://bit.ly/Sullatober"
Click here to read: Booking-only system 'improving' access at Sullatober laneway
Thank you for reading this article. We're more reliant on your support than ever as the shift in consumer habits brought about by coronavirus impacts our advertisers. Please consider purchasing a copy of the paper. You can also support trusted, fact-checked journalism by taking out a digital subscription of the News Letter.