​Killeavy Castle owners announce £1.5m landscape restoration plan
​The owners of Killeavy Castle have launched a "monumental" 15 year landscape restoration plan worth £1.5million.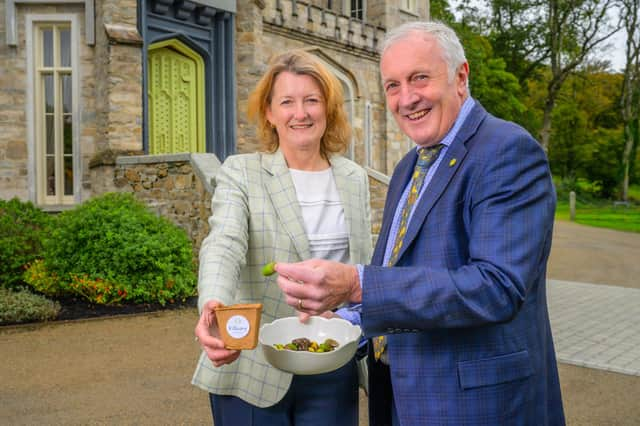 ​This visionary project encompasses the restoration of the sprawling 365 acres of woodland, farmland and mountain that make up Killeavy Castle Estate in the Slieve Gullion area of the Mourne Gullion Strangford UNESCO Global Geopark, with a dual purpose to invigorate recreation and tourism in the region while safeguarding and elevating the existing High Nature Value (HNV) habitat.
Killeavy Castle Estate was purchased in 2013 by husband and wife, Mick and Robin Boyle, and following a £13 million investment, the Boyles transformed the estate into an award-winning four-star world-class hotel which opened in 2019, complete with events centre, spa, working farm, and woodland walks.
In 2022, the estate announced a partnership with the Northern Ireland Forest Service, The Woodland Trust Northern Ireland, and Newry Mourne & Down District Council. That partnership is supporting Killeavy Castle Estate as it embarks on the ambitious task of planting 50,000 trees, increasing the 35 acres of native ancient woodland on Killeavy Castle Estate to over 115 acres in order to create a biodiversity corridor and Slieve Gullion native woodland that will extend to over 200 acres across Killeavy Castle Estate and the adjacent Slieve Gullion Forest Park.
The Killeavy Castle Estate Landscape Restoration Plan aims to further improve the natural heritage of the area, creating a suite of positive biodiversity and ecosystem impacts on the estate by fostering diverse habitats, promoting wildlife mobility, enhancing resilience against extreme weather events and contributing to carbon sequestration.
Owner of Killeavy Castle Estate, Mick Boyle said: "Today marks a significant milestone in our restoration journey at Killeavy Castle Estate which commenced 10 years ago with the castle, historic buildings and farmlands which were all derelict. Our commitment to restoring and enhancing this remarkable landscape is a testament to our dedication to sustainability, heritage preservation, and the well-being of our community and guests. We are thrilled to break ground on this transformative project, and we look forward to witnessing the positive impact it will have on both the environment and the people who cherish this region."
Mick and Robin Boyle engaged with the Woodland Trust Northern Ireland and ecological consultant, Michael Meharg to map out and understand the health and condition of the flora, fauna, and biodiversity of the broader Estate lands with reports from both parties forming the foundation documents for the Killeavy Landscape Restoration plan.
Robin Boyle added: "It is fantastic to see this incredible landscape restoration plan come to life here today. The plan that has been devised not only promises to enrich the natural environment, supporting the flourishing flora, fauna, and wildlife, but also extends its benefits to the people of South Armagh and beyond. We eagerly anticipate the positive transformations that this project will bring to this beautiful region."
The Landscape Restoration Project at Killeavy Castle Estate is set to span 15 years, with ongoing additions and enhancements as it evolves. The estate, in collaboration with its dedicated partners, eagerly anticipates nurturing this transformative project, with the hope that it will serve as an inspiring model of sustainable restoration for generations to come, leaving a lasting natural legacy for all.