ReCycle Project launched at Portstewart Men's Shed
Members of Portstewart Men's Shed have put their bicycle repair skills to good use, as they launch a new recycling project.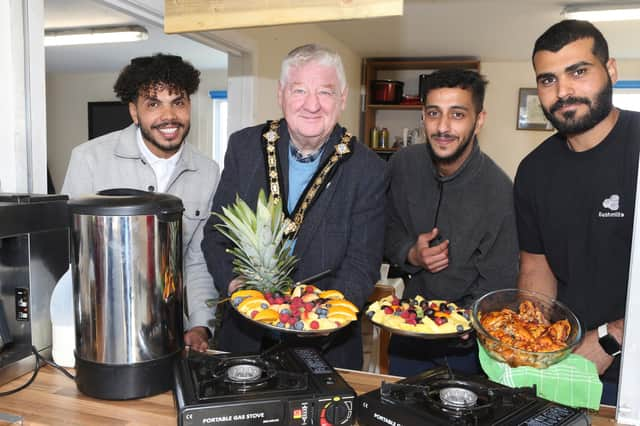 The ReCycle project, which is not for profit, aims to rescue bicycles from the waste stream, repair them, and pass them on to local people who are most in need of them, including asylum seekers living in the local area.
The initiative has received financial support as part of Causeway Coast and Glens Borough Council's Asylum Dispersal programme funded by The Executive Office; enabling the creation of a bicycle repair workshop and tools for the Men's Shed members to aid repair and recycle of the donated bicycles.
Mayor of Causeway Coast and Glens, Councillor Steven Callaghan said: "This fantastic initiative will enable participants and recipients of bicycles to learn new skills while also recycling bicycles that may have otherwise been disposed of.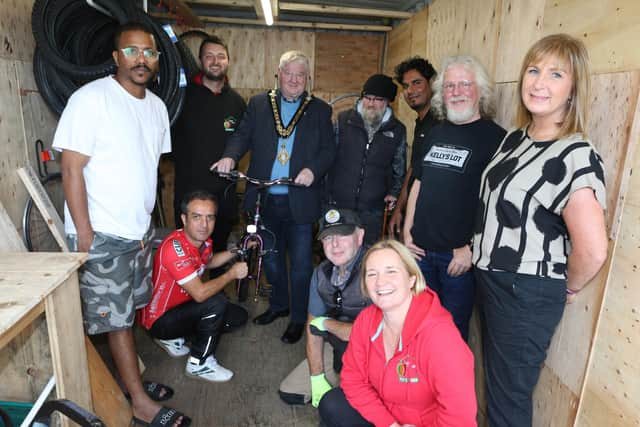 "It was fantastic to come along and meet members of the Portstewart Men's Shed and see the work they are doing for the community first hand. I'd encourage anyone that does have bicycles they can donate to bring them along for recycling."
Good Relations Manager, Patricia Harkin who also visited the Men's Shed Project said: "Everyone receiving a bicycle will be encouraged to get involved in the repair of their bike, therefore helping to upskill or reskill the community in basic bicycle repair and maintenance.
"It was wonderful to meet the members and staff delivering the project, we also had the opportunity to also meet some local residents who have already benefited from ReCycled bicycles.
"It was also fantastic to hear that two of the men who have received ReCycled bicycles have returned to the workshop to carry out repairs on their own bikes, and to help with the repair of bikes donated for recycling."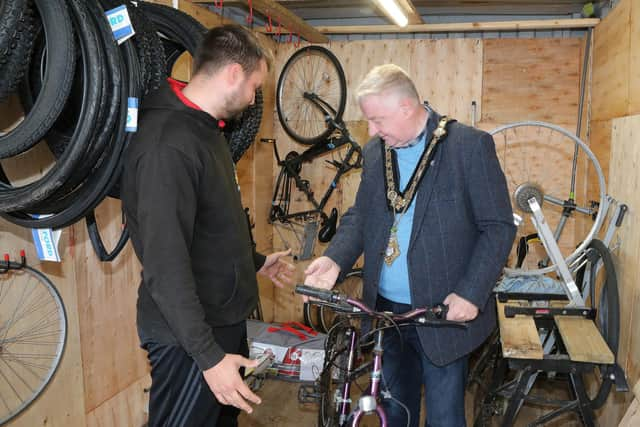 Catherine Taylor, Project Director of Be Safe, Be Well, said: "Engaging those who have been placed in our Council area whilst seeking Asylum in Northern Ireland and supporting them to recycle a bicycle that they can then use is essential.
"Not only does this encourage local integration, but it will also assist them to travel to local shops, attend English classes and medical appointments. It also promotes cycling for its physical, mental, and environmental health benefits for people, place, and planet."
The ReCycle project has given the Men's Shed members the opportunity to learn new skills or to hone their exiting bike repair knowledge. The LifeCycles project based in Derry~Londonderry has supported this new initiative by providing advice and training to the members.
Council would encourage anyone with adult bikes that they are not using or that need repair to bring them along so that someone else in the community can benefit from them. Portstewart Men's Shed is open from 10-3pm every Tuesday and Thursday, and it is open to men aged 25+ to join.
Further information can be found via the Be Safe Be Well website www.besafebewell.co.uk, or their Facebook site 'Be Safe Be Well Men's Sheds' alternatively you can call Be Safe Be Well Programme staff on 028 777 69829.