An Irish Goodbye actor James Martin will 'not remotely' change after Oscar success says proud dad
The Northern Irish comedy drama An Irish Goodbye has won an Oscar for best live action short film.
Watch more of our videos on Shots! 
and live on Freeview channel 276
Visit Shots! now
The film, which was shot on location in Templepatrick, Londonderry and Saintfield, saw off stiff competition at the prestigious Academy Awards on Sunday night.
It follows the story of two estranged brothers, played by Belfast actor James Martin and Seamus O'Hara – who grew up in Cushendun and now lives in Newry – coming together after their mother's death to fulfil her bucket list.
It was an extra special occasion for James – the first Downs Syndrome recipient of an Oscar – as the award win came on his 31st birthday.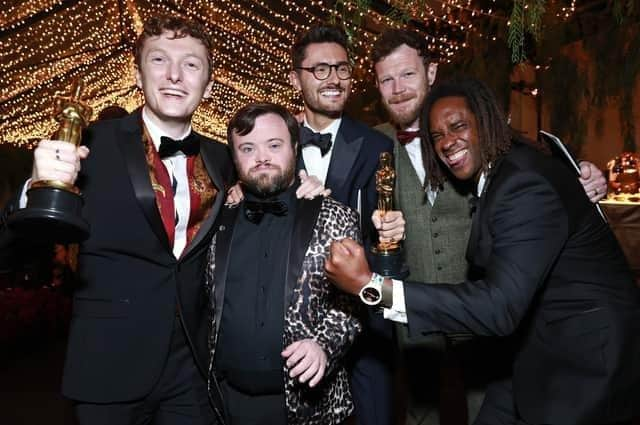 When called to the stage at the glittering event, co-directors of the award-winning film, Tom Berkeley and Ross White, led the audience in singing Happy Birthday to him.
Saying the award was "the second most important thing of the day", the pair encouraged the star-studded audience to join in celebrating James' birthday.
Speaking to the BBC this morning (Monday), James' dad Ivan Martin described the news as "unbelievable".
"It's been a journey and everybody kept saying the prize is getting there. But truth to tell, you want to win. I had my doubts as one of the opposition film was a Disney film and they, in the last week, had really been ramping up the promotiom for it."
He described An Irish Goodbye as "a film we can all be proud of".
Ivan said that he hadn't been able to congratulate his famous son as yet.
"James was at the Elton John after party and I haven't been able to get him or his mother. It's just crazy. What an achievement. I'm just delighted.
"He's taken it head on. He's done very well. We're delighted for him. He tackles everythig with great gusto and it certainly paid off."
Asked if fame would change James – a barista in a Belfast coffee shop – Ivan stressed "Not remotely".
He shared how last week James was chatting with Barbara Broccoli, one of the entertainment industry's most successful female producers and well known for her work on James Bond films.
"This guy comes over and Barbara introduces him. The guy says to James that he was smoothing up to Barbara as he wants to be the next James Bond.
"James says: 'Don't be so stupid. Look at me. Look at what height I am. I'm too small to be James Bond'. He then turns to Barbara and says: 'But I've got all the moves!'"
Ivan revealed that there were challenges for the family when James was a baby.
He recalled someone saying to him, 'Look Mr Martin, you are going to have to realise James will probably never speak'.
"Here we are, James not only speaks, once he started speaking he hasn't shut up. He loves acting and loves this ride with the Oscars and the BAFTAs," he added.
Proud dad Ivan said one of the best moments for James recently came at Windsor Park.
"On the big screen came 'Congratulations to James on winning a BAFTA'. That was something special. We go to local football every week of our lives and to see that up there is just something. He is loving it. All I ever wanted for James was for him to be happy. Tell you what, he's happy now."
An Irish Goodbye will be broadcast on BBC One on Monday, March 13 at 10.40pm (and 11.40pm in Northern Ireland) and is also available to watch on BBC iPlayer.