Colin Apperley of Apperley's Butchers agreed to become the main sponsor for a relay team of students from Slemish Integrated School in Ballymena who are taking on the marathon to raise money for a charity called Saphara.
The team is made up of Daniel Connolly, Adam McCaughey, Killian Sandercock, Ben O'Neil and Hannah Leetch.
Year 13 student Hannah said: "I have become involved in a charity at school called Saphara. This is a very prestigious project to be involved in as only 120 students are selected each year from NI to take part.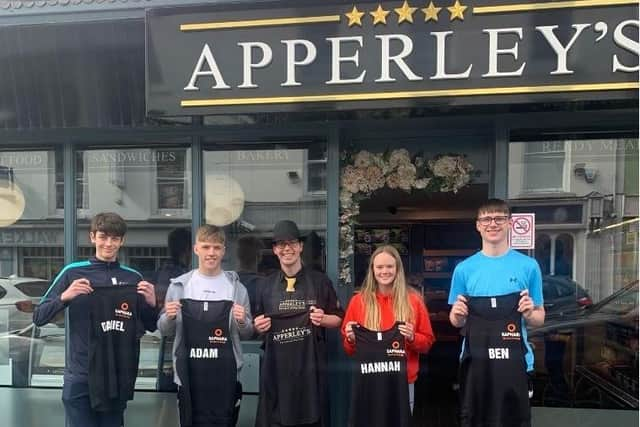 "Saphara is a programme that was set up a teacher called Christine Burnett from Methodist College. She was struck by the poverty she saw during a trip to India and was touched as all the kids wanted was an education.
"I love the fact that Saphara doesn't just send money to India but the money raised is used to build schools. I believe building schools and educating the next generation is the most sustainable way of helping raise out of poverty.
"I came up with the idea of creating a relay team and approaching businesses for sponsorships. I choose teammates who were going to commit to training for the relay and who I could rely on. They have been fantastic and trained through all weathers and never complained.
"I approached Apperley's Butchers and Colin Apperley was keen to know more. When I spoke to him he was very keen to be involved. As he was our main sponsor I designed and ordered vests to help promote Saphara and Apperley's Butchers.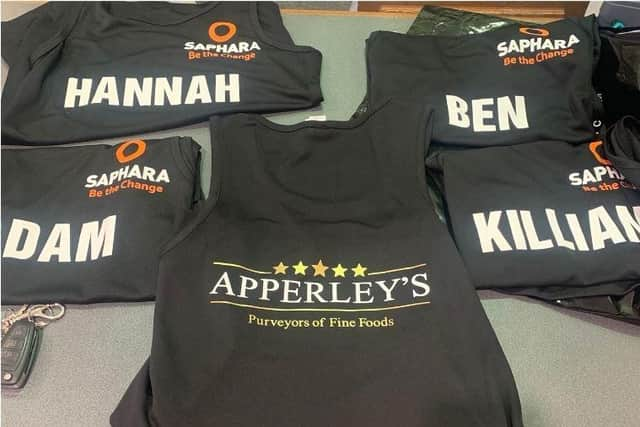 "I have been blown away by Colin Apperley. Not only is he very generous and keen to help, he is an amazing runner himself having run a sub-three hour marathon but he said that marathons were too short for him!
"So he now likes ultras and loves racing between Edinburgh and Glasgow. After training for the relay, I have no idea how he even can think about running that distance! He is a real inspiration to us all."