Lisa Dawson drew on visits to Glenoe Waterfall, Mount Stewart in Newtownards and her home area when she wrote 'I'll Remember You', which has just been released as a single.
It features on 'The Voice of the Island', Lisa's debut EP of her own original music.
The singer and pianist blends classical and traditional styles together in a style that is reminiscent of artists like Enya and Loreena McKennitt.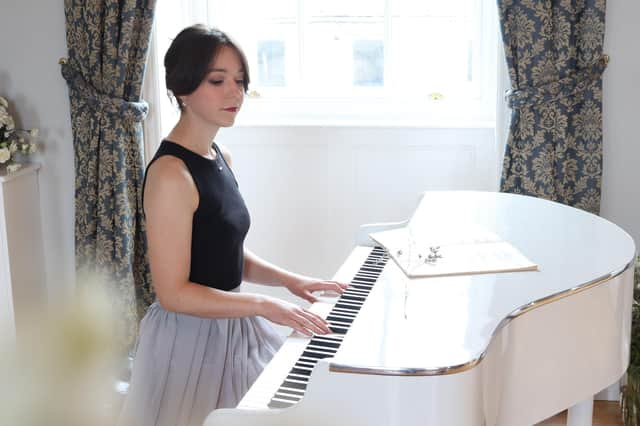 Speaking about her latest track, Lisa said: "I wrote this song a couple of years ago, but I return to it again and again. For me, it brings back cherished memories of many places I have visited in Northern Ireland, and it makes me feel so connected to these places. I hope it will do the same for others."
Lisa added: "After recording 10 Irish traditional songs in 2021 as part of a project with the Arts Council NI, this is my first original single release and part of an EP that will be released in the summer."
Carnegie Hall
As a classically trained singer, Lisa has performed from a young age in many vocal ensembles and at venues throughout the world including the Royal Albert Hall, London, for the BBC Proms and Carnegie Hall, New York.
Lisa launched her solo career by releasing 10 of her own arrangements of Irish and Scottish traditional music, as part of a project titled 'Heritage'.
The first track to be released from this new EP, 'I'll Remember You' also features piano and flute, both of which are performed by Lisa.
It was made available on all major music platforms on Friday, January 27.
During the Covid-19 pandemic restrictions in April 2020, Lisa provided much-needed entertainment by going live on Facebook every lunch-time for a week with a dedicated show. It was part of Mid and East Antrim Council's #MEAStars initiative as a "thank you for the incredible community spirit shown" during the coronavirus emergency.
Lisa also ended 2020 on a traditional note, recording her own version of the New Year's classic, Auld Lang Syne.