Corbet Accordion Band's annual parade will be lead by Inch Flute Band, Downpatrick which is celebrating its 100th anniversary this year.
The host band will parade from Commerical Road car park to the war memorial, play a few sets, and return to car park.
When does the parade start and what route will it take?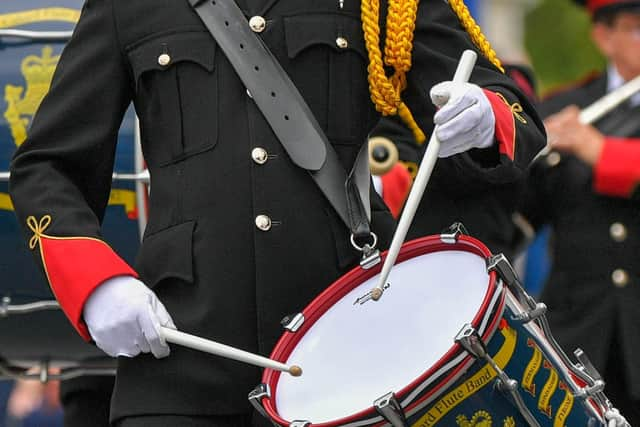 The parade will begin at 7.15pm and follow this route:
Commercial Road car park to Commercial Road roundabout
Newry Street
Bridge Street
around the Crozier Monument
Bridge Street
under The Cut
Newry Street
Old Kenlis Street
Which bands are taking part?
According to the Parades Commission, the following bands are expected to take part:
Kilcluney Flute Band
Clogher
Downshire
Red Hand Defenders Flute Band
Legananny Accordion Band
Upper Bann Fusiliers Flute Band
Ardarragh Accordion Band
Crossgar Young Defenders Flute Band
Loyal Sons Of Benagh Flute Band
Skeogh Flute Band
Rising Sons of the Valley Flute Band
Kinallen Flute Band
Pride Of The Hill Rathfriland Flute Band
Inch Flute Band
Pride of the Hill Auld Boys Flute Band
Aughlisnafin Accordion Band
Pride of the Birches Accordion Band
Sons of Ulster Flute Band Dromore
Clough Orange & Blue Accordion Band
Donaghmore Accordion Band
Bessbrook True Blues Flute Band
Drumderg Young Loyalists Flute Band
Ballylesson Old Boys Flute Band
South Down Defenders Flute Band
Blackskull Orange & Blue Flute Band
Maghera Star of Down Flute Band
Moneyslane Melody Flute Band
Lisnaward Flute Band
William Sterritt Memorial Flute Band
Corbett Accordion Band
Derryfubble Accordion Band
Sgt White Memorial Flute Band
Quilly True Blues Flute Band
Dunmurry Protestant Boys
Spa Accordion Band
St Johnstons Memorial of Ballykilgbeg Accordion Band
Ballyrea Boyne Defenders Flute Band
Annaghmore Flute Band
Portadown True Blues