The parade will take place through the band's home town in the afternoon and in the evening there will be a function of music, culture, dancing 'and a few shandies'.
A spokesperson for the band said that throughout the year members were 'honoured' to accompany a number of different Orange lodges, as well as members of the Royal Black Preceptory and Apprentice Boys of Derry, at various parades and events up and down the country.
"On Saturday we will be parading our home town of Carrickfergus, starting from Sunnylands Community Centre at 3pm, to the Cenotaph for a short wreath-laying service in memory of past members who are no longer with us and finishing at the Carrickfergus Official Glasgow Rangers Supporters Club where we will have a function that evening.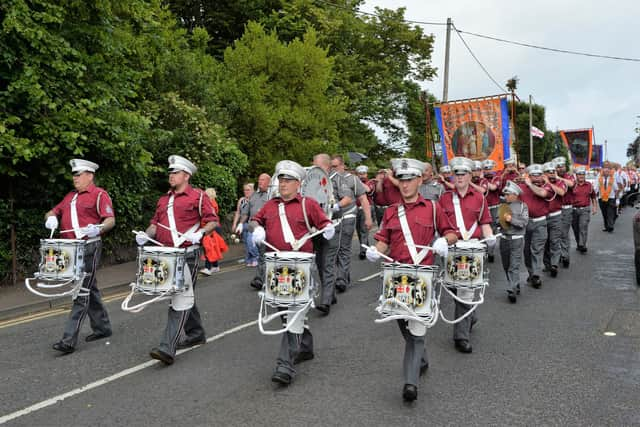 "We will be accompanied by each lodge, preceptory and ABOD Club that engage us throughout the year with brethren from across Ulster, Scotland and Liverpool already having confirmed their attendance.
"We are looking forward to having all of our friends and supporters on parade with us at the same time, with all of their banners and colours adding to the spectacle.
"That evening we are delighted to have live music from local legends Token and our friends in the Ulster Grenadiers Flute Band will be playing a set too.
"We would love to have you all with us to support the band, both on parade and then at the function afterwards which will be free entry."
The band has expressed thanks to Mid & East Antrim Borough Council for their support in providing grant funding for this event.
What time does the parade start and what route will it take?
The parade begins at 3pm and will follow this route:
Sunnylands Community Centre
Bridewell Drive
Sunnylands Avenue
Sandes Court
Hawthorn Avenue
Hawthorn Grove
Woodburn Avenue
Woodburn Road
Ellis Street
Minorca Place
Irish Quarter West
West Street
Market Place
High Street
Joymount
Carrickfergus War Memorial (pause for short wreath laying ceremony)
Joymount
Antrim Street
Lancasterian Street
Albert Road
St Brides Street
North Road
Shaftesbury Drive