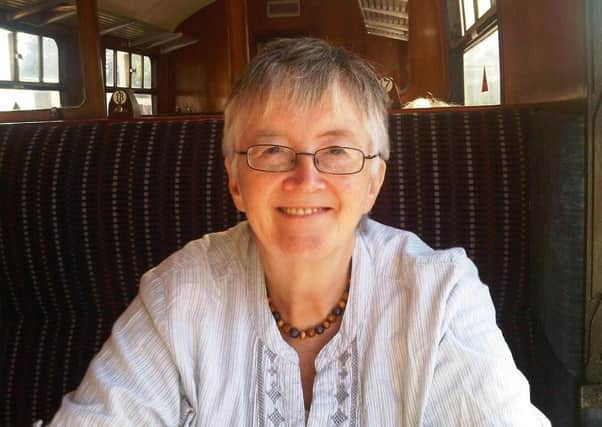 Linda Hagan's first novel, The Perfume Killer, enjoyed high rankings in Northern Irish and Irish crime fiction on Amazon Books.
Spurred on by its success, she released a second book, Murder Sky High, with a third instalment now in the works.
The local woman was previously Head of the English Department at Ashfield Girls' High School in East Belfast, where she taught for over 30 years. "Obviously, being an English teacher, I read a lot," said Linda, 70. "But my own personal preference was always for crime fiction. I loved the classics like Agatha Christie and Dorothy L Sayers, and then developed a taste for modern writers like Colin Dexter, Ian Rankin and Ann Cleeves.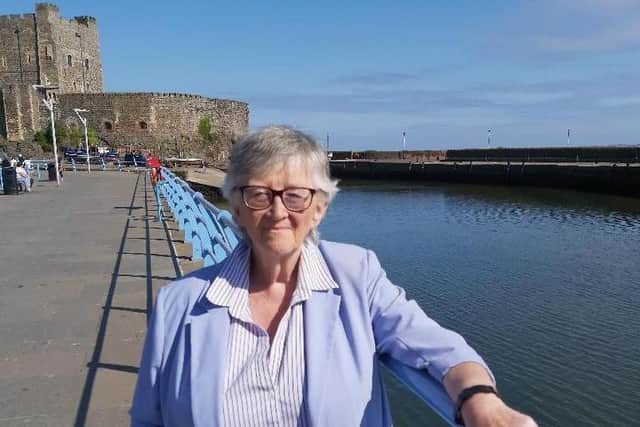 "I was always very imaginative, having been brought up an only child in Belfast in the 1950s and 60s, where I depended on being able to make my own entertainment.
"I always enjoyed working with words but my writing was restricted to creating teaching and learning materials for my own classes, and also for educational websites and then eventually, after I achieved my PhD, to academic writing with articles in various journals around the world.
"Writing a whole novel was never something that crossed my mind. I had plenty of ideas, but there was never time; I was a wife, a mother, a teacher, a part-time post-graduate student at Queen's studying for my PhD, and eventually a grandmother too."
Online writing course charts path to new novel
Like many others, the onset of the pandemic last year led to a increased amount of time spent indoors for Linda.
It was during this period that an online course set her on the road to writing a novel. "My husband and I were shielding; we didn't even see our two daughters or our grandchildren for months other than online," she said.
"I have always been fairly tech-savvy and enjoyed the Internet, so I looked around for opportunities to watch lectures and talks. I came across the mention of a Crime Writing course.
"It was being funded by the Arts Council and facilitated by a local writer James Murphy, who incidentally is also an English teacher in Belfast, although our paths had never crossed. The discipline of having to produce short passages of writing, to think about characters and pacing and all the other structural aspects of writing opened up a new world to me.
"I found the other course participants really encouraging and inspiring; James created a WhatsApp group where we still all keep in regular contact. They are very supportive, as also are other writers who I have found very helpful and encouraging. I must mention Sam Blake, who is a well-known writer and whose online classes I have found very beneficial."
But a key source of support during her creative journey was Linda's own family. "My husband says he is my biggest fan," she added. "Both my daughters have read the books and one of them proof-read as I went along."
Northern Ireland setting was crucial to story
The manuscript complete, a contract with publishers The Book Folks followed, resulting in the release of The Perfume Killer.
The story features DCI Gawn Girvin and tells the tale of a murder which takes place in Botanic Gardens, Belfast.
However, the author was keen to use local settings which she knows well, even placing her central character in an apartment at the marina in Carrickfergus.

"I decided, following the old advice 'to write about what you know', that I would make Northern Ireland very much part of my writing," Linda added.
"I therefore decided to take photographs of some of the scenes and places which I feature in the books, such as Botanic Gardens, where the Perfume Killer strikes, and the marina at Carrickfergus which is crucial to the storyline."
After posting the shots on her social media accounts, Linda received messages from readers across the globe. "I've had comments mainly from England, USA and Canada. Some are from ex-pats who recognise places they know, and some from people who have never been here," she explained.
"The furthest away message came from a lady in New Zealand - Megan Payne, mother of one of the Ulster Rugby coaches, Jared Payne. She had written a novel set in NZ and Ireland, and she commented about the places she loved reading about in my book that she had been to when visiting her son and grandchildren here."
Linda's new role as a writer, meanwhile, can be seen as a positive outcome of last year's pandemic-related restrictions. "It's not only encouraging as far as Covid lockdown is concerned, but also for the older generation, proving it is never too late to fulfil your dreams," she said.
The Perfume Killer and Murder Sky High are both available on Amazon in kindle and paperback format, along with The Secret Bookshelf in Carrickfergus.
A third book, as yet untitled, is due out before Christmas.
Readers can follow Linda's progress through her Twitter account @BookwormElim and her Instagram account rockchallenger.
Thank you for reading this article. We're more reliant on your support than ever as the shift in consumer habits brought about by Coronavirus impacts our advertisers.
Please consider purchasing a copy of the paper. You can also support trusted, fact-checked journalism by taking out a digital subscription of the News Letter.