Centenary commemoration programme launched across Antrim and Newtownabbey
The Mayor of Antrim and Newtownabbey, Cllr Jim Montgomery launched the council's Northern Ireland Centenary programme with flag raising events at Antrim Civic Centre, Ballyclare Town Hall and Mossley Mill.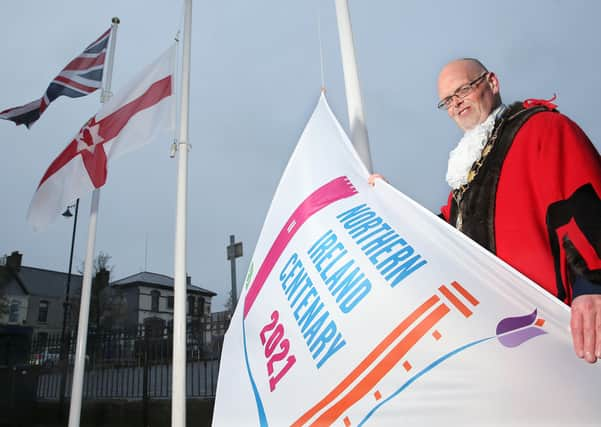 2021 is a significant year, marking 100 years since the creation of Northern Ireland.
 To mark the Centenary of the creation of Northern Ireland, the local authority has developed a year-long programme, titled; Our Country's Centenary for Our Community, Reflecting Back - Striving Forward.
Cllr Montgomery said: "I welcome 2021, our Centenary year, by raising both the Ulster Banner and the council's own Centenary logo flag.
"The council's Centenary programme aims to engage all our community through a range of events, projects and initiatives which we hope will have broad appeal and create opportunities for everyone to reflect, commemorate, celebrate and inspire our young people to strive forward as a new centenary beckons.
"We have an opportunity to learn about our past, draw on its lessons, and be inspired by its spirit. Let us embrace the future with courage and hope, and today we start to write the next chapter in our country's history."
Meanwhile, South Antrim MP Paul Girvan has welcomed the beginning of Northern Ireland's Centenary year and described it as a seminal moment in our history.
The DUP representative said: "All communities across South Antrim have benefitted hugely from Northern Ireland's membership of the United Kingdom.
"In our 100th year, it is more important than ever that we reflect on all that has been achieved.
"2021 provides us with the unique opportunity to commemorate all those great Ulstermen and Ulsterwomen who have come before us.
"It is also incumbent upon us all that we use this year to inspire the next generation of innovators and inventors that will ensure Northern Ireland continues to thrive.
"A full programme of events will take place the length and breadth of South Antrim, in a variety of settings to ensure everyone has the opportunity to play their full part in this historic year.
"I look forward to joining the people of South Antrim throughout the year in commemorating and celebrating this wonderful occasion and showcasing all of that which makes Northern Ireland such a wonderful place."
A message from the Editor:
Thank you for reading this article. We're more reliant on your support than ever as the shift in consumer habits brought about by Coronavirus impacts our advertisers. Please consider purchasing a copy of the paper. You can also support trusted, fact-checked journalism by taking out a digital subscription of the News Letter.