Co Antrim actress recognised for 'socially distanced theatre' over lockdown
A Co Antrim woman has been recognised by The National Lottery for her dedication to keeping the arts alive and accessible to all during the pandemic.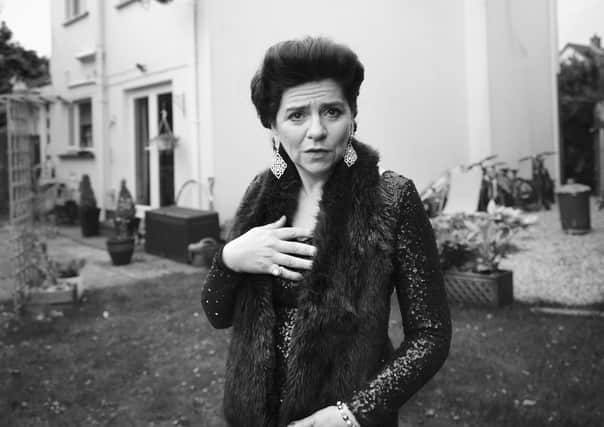 Maria Connolly, 47, is a freelance actress and writer who wrote, produced, directed and performed in her socially-distanced play, The Broads, during lockdown.
Maria will appear in a unique digital photography exhibition which marks the first time in history eight of the UK's most iconic art galleries - including The MAC in Belfast, London's National Portrait Gallery and Ikon Gallery in Birmingham and the British Film Institute (BFI) - have come together in this way.
The collection, titled 'The National Lottery's 2020 Portraits of the People' celebrates the individuals who have worked tirelessly during the pandemic to bring creativity, enjoyment and enrichment to people in new ways.
Thirteen powerful and poignant portraits have been created by Chris Floyd, who normally photographs celebrities such as Sir Paul McCartney, Sir Mo Farah and Victoria Beckham.
The exhibition was born out of insights from the National Lottery which indicate there has been a 'domestic renaissance' in people enjoying the arts at home with 61 percent of adults in the UK saying it helped their state of mind during the crisis, and 40 percent of Northern Ireland people believing the positive impacts on their wellbeing would be long-lasting.
"There's so many people out there who need theatre at the minute. People are so starved of entertainment," said Maria, who has been acting for over 30 years.
"Even before the pandemic I was hearing stories of people in homes who have nothing, nobody ever comes to see them and they're stuck in those homes every single day.
"We saw for ourselves the impact that we were having on these ladies and gentlemen when we were there. We still get calls and messages from people asking if we can bring more shows to them."
Maria's innovation saw her own production thrive during lockdown, with The Broads focusing on the story about the lives of Judy Garland, Bette Midler and Marilyn Monroe.
The Carrickfergus resident rehearsed the play with three other artists via Zoom and was determined to bring a live theatre experience to the most vulnerable and isolated in society during the pandemic.
And thanks to her dedication and creativity she achieved that with stunning success, creating a socially-distanced piece of theatre that could be performed outside, or through the windows of people who were isolating together.
The impact and visibility of The Broads has been staggering, with the play performed live to more than 600 people living in isolation – and also on hospital sites for NHS workers – at the end of June.
"It was very easy to socially distance. Performing in a non-theatre space really excites me so I didn't have to really try too hard to change what I'm used to. It was just a gift to me, it didn't feel new or strange at all," said Maria, who lives with husband, Jeff, and children Logan, 15, and Ryan, 12.
"I love performing outside as well, you don't know what's going to happen with the elements.
"A lot of the time our audiences were inside and we were behind windows so everyone was protected.
"It was easy. Other people think this kind of work is hard but it's not, it's magical. Audiences get so involved and they really believe that you're Judy Garland!
"We've brought the show to roughly 1,600 people including NHS workers. We've done approximately 60 shows in places such as mental health units, care homes, assisted living accommodation, rehabilitation units, four hospitals and a cancer centre."
National Lottery players raise £30 million a week for good causes around the country, funding thousands of projects that make a huge difference to people's wellbeing.
"I'm so grateful to The Arts Council, The National Lottery, the people that buy the tickets that we were able to do this and I just hope we will be able to do this again," added Maria.
"The funding allowed me to pay myself and three other actors a wage to go and bring professional, socially distanced live theatre to people living in isolation.
"I know it has inspired others to do similar work too. I just think that's amazing and that's a ripple effect and that all comes from the funding.
"I was in absolute shock [when I found out about the museum portrait] to be honest. I couldn't believe it.
"I was absolutely stunned. To be honoured among 13 other people around the UK who have tried to bring the arts to their community. I just think what an amazing way to highlight the impact the arts can have by showing the positive effects the arts have had on people through the pandemic."
The digital exhibition in which Maria's portrait features can be visited on the websites and social media of: The National Portrait Gallery, The National Museum of Wales, The MAC in Belfast, IKON Gallery in Birmingham, Summerhall in Edinburgh, Ty Pawb, Ruthin Craft Centre in Wales, The Photographers' Gallery in London and The British Film Institute.
The portraits will also be on display at BFI Southbank in London.
Photographer Chris Floyd added: "The journey to capture these artists of all varieties was an incredibly humbling one. I wanted to do justice to the ongoing and selfless efforts of these creatives and creators who have taken their skills within the arts and built accessible resources for those who needed it most. It feels like a small thank you in comparison to what they've done for their local communities and for the arts sector as whole."
Roisin McDonough, the CEO of Arts Council Northern Ireland said: "People in the UK have a great love of creativity, art and culture. We know these things can bring us together, enrich our lives, support our emotional wellbeing, and make us happier.
"Throughout lockdown we've seen that in villages, towns and cities, people have continued to participate and enjoy the arts whether that's at home, digitally, or through socially distanced activities within their communities."
The works aim to create a 'moment in history', preserving the work of these unheralded champions for posterity and encapsulating the varied and innovative ways art can be expressed.
Thank you for reading this article. We're more reliant on your support than ever as the shift in consumer habits brought about by Coronavirus impacts our advertisers.
Please consider purchasing a copy of the paper. You can also support trusted, fact-checked journalism by taking out a digital subscription of the News Letter.