Co Armagh mum encourages others to join UK-first trial to screen children for type 1 diabetes now available in Northern Ireland
A Lurgan mum has welcomed the news that children in Northern Ireland are now eligible for a trial screening programme that will identify those at high risk of developing type 1 diabetes in the future.
Watch more of our videos on Shots! 
and live on Freeview channel 276
Visit Shots! now
Funded by Diabetes UK and JDRF, ELSA (EarLy Surveillance for Autoimmune diabetes) aims to recruit 20,000 children, aged between three and 13 years, to assess their risk of developing type 1 diabetes through at-home finger-prick blood tests.
Home testing kits are now available to families throughout Northern Ireland. Around 1 in 100 children will require follow-up venous blood testing, available at the Southern Health and Social Care Trust.
Launched in England, Scotland and Wales in November 2022, the trial is the first of its kind for the UK which will lay the groundwork for the development of a potential future UK-wide screening programme, transforming how type 1 diabetes is identified and managed in its earliest stages.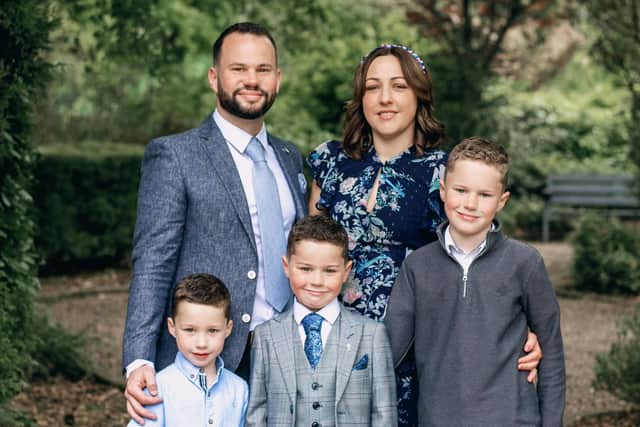 Claire Gallagher, from Derrytrasna, whose two sons are taking part in ELSA, said: "Through ELSA, parents or carers just like me can remove the 'what ifs' and possibly even put their mind at ease.
"Having determined results as to whether your child is at risk of developing type 1 diabetes in their lifetime, means that you can equip you and your family with the knowledge to identify signs and symptoms and lean on resources and support when it presents. Education really is empowering in helping manage long-term conditions, like diabetes.
"My advice to any parents or carers out there is to absolutely take part in the ELSA study and know that, should they have a positive result, it will not hold their child(ren) back.
"I think one of the most important takeaways is to understand that with diabetes, not every day or week will be the same. We can't make things perfect all the time and we do face some challenges now and in the future, but involvement in studies like ELSA shows me that we really can strive to make things better and will help so many families across Northern Ireland."
Type 1 diabetes is a serious and lifelong autoimmune condition affecting nearly 9,000 people in Northern Ireland. It is caused by an immune system attack on the insulin producing cells of the pancreas, meaning they can no longer make insulin, which results in high blood sugar levels.
The ELSA research team are able to identify people at high risk of type 1 diabetes by testing for markers in the blood, called autoantibodies – tools used by the immune system to earmark insulin- producing cells for destruction. Autoantibodies are associated with the development of type 1 diabetes, and can appear in the blood years, or sometimes decades, before people begin to experience any symptoms.
Children at risk and their families will be offered support and education – including information on symptoms and management – to help prepare them for the diagnosis of type 1 diabetes. Families will also be offered the opportunity to be followed up in the long-term to enable closer monitoring and potentially to start insulin treatment sooner. Research in Europe and the US has found that the extra support and monitoring screening programmes can offer dramatically reduces the risk of being diagnosed in diabetic ketoacidosis (DKA) – a life-threatening condition.