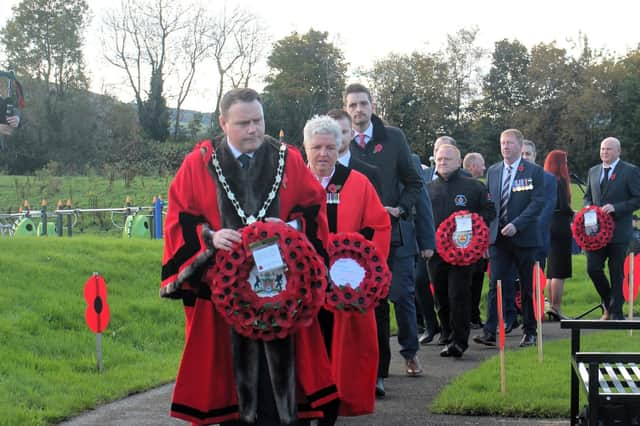 Community gathers in Rathcoole to remember fallen service personnel
Residents from across Rathcoole have been paying tribute to fallen service personnel as the 'Row on Row' memorial returned to the Newtownabbey estate for the fourth year in succession.
Published 7th Nov 2023, 17:17 GMT
Updated 7th Nov 2023, 17:17 GMT
A service, attended by politicians, community representatives and local residents, was staged at the memorial in the Sir James Craig Play Park on Sunday, November 5.
The Row on Row display has been organised by the RATH Community Group and members of Dalaradia to recognise the men and women who sacrificed their lives in World War One and World War Two as well as in subsequent conflicts.
Sunday's service was opened by Rosemary Bell McCracken and a religious service was conducted by George McKim.
Mayor of Antrim and Newtownabbey, Cllr Mark Cooper, placed the first wreath at the memorial this year.
The organisers wish to thank everyone who has supported Row on Row.