On Monday June 12, the Mid Ulster Housing Forum will host its first public event at the Burnavon Theatre in Cookstown.
The theme of the inaugural conference is 'Housing supply in Mid Ulster: Starting the conversation' and it will be hosted by Paddy Gray OBE who is Professor of Housing at Ulster University.
Housing is an important issue for many residents as Mid Ulster has one of the fastest growing populations in the country and with that comes the challenge of meeting the demand for new homes in our towns and villages across the district.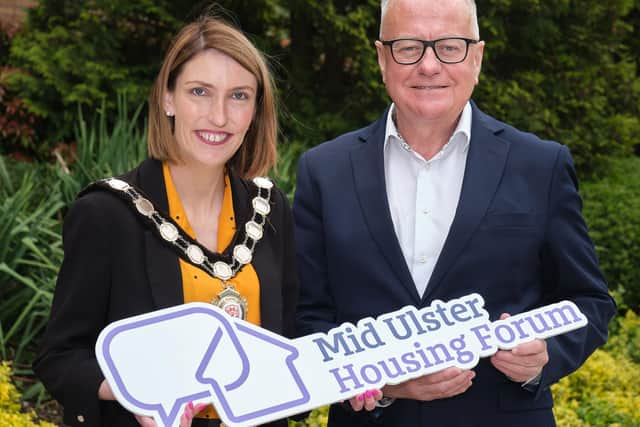 Mid Ulster Housing Forum have set out four key topic areas which will come under the spotlight at the conference next month: Housing Supply Strategy; Social and affordable housing; Private sector housing; Local Development Plan.
The conference will bring together a number of key private and public bodies, including government departments, council officers, planners, estate agents, developers, architects and the Community & Voluntary sector, in an effort to start the discussion on housing supply and find the best possible way forward.
Chair of Mid Ulster District Council, Councillor Corá Corry said, "Housing is a key issue in Mid Ulster, so it is very welcome to see all the relevant agencies from across the sector, coming together to identify the key issues which need to be addressed.
"Mid Ulster has one of the fastest growing populations, so there is a high demand for housing both in the social and private sector and as a council I am delighted that we are providing a platform to inform and discuss the issues, at this local level. We want to ensure that every resident has access to good quality affordable homes."
She added, "We hope this will be the first of many conferences on housing and we look forward to hearing a wide range of views from all those involved with the housing sector."
Conference host Paddy Gray OBE said: "Housing is not just about bricks and mortar. Good housing and homes support our health, our wellbeing, our life chances and our job prospects."
The conference will run from 9.30am until 1pm at the Burnavon Theatre. To register for the free event, please email to [email protected]