Lisa Jiang was the winner in the 'Young Person of the Year' category at the recent Eastside Awards ceremony, held in the Stormont Hotel, Belfast.
A year 14 Media Studies, Business Studies and Art pupil at Ashfield Girls' High School in east Belfast, Lisa was recognised because of her ability to overcome adversity, her leadership skills and her determination to succeed as well as being an exemplary role model to others.
Teacher and supporter of the awards, Tracy Rossborough praised Lisa on her achievement.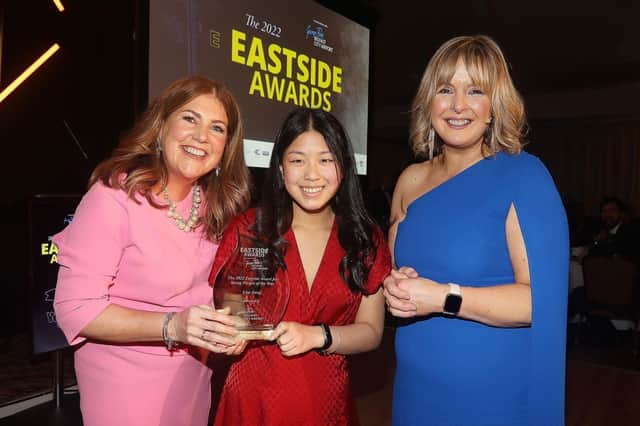 Tracy said: "I can think of no better recipient of this award as Lisa encompasses everything that we encourage our students to be – resilient and determined to succeed, regardless of the challenges faced."
Lisa's win resulted in a hat trick for Ashfield Girls' at the presentation, bringing the total awards won by the school to 13 since the initiative began seven years ago.
Jonathan McAlpin, chief executive of East Belfast Enterprise and chair of Eastside Awards Committee, said: "I must pay particular tribute to the teaching staff at Ashfield Girls' High School. It's incredible that the school has won a total of 13 Eastside Awards over the past seven years.
"The calibre of entries every year surpasses the one before and the students are testament to the drive and commitment the teaching staff exudes in nurturing them on their educational journey."
The Eastside Awards highlights and celebrate all that is great about east Belfast whilst showcasing the contributions made to the economic, social and community development of the area.