The Public Health Agency, the Community Development & Health Network (CDHN) and community partners recently gathered to celebrate their achievements and share their learning to mark the end of the fourth successful Elevate Community Mentoring Programme.
With funding support from the Public Health Agency (PHA), CDHN has worked with community partners, to develop and deliver the Elevate community capacity building and a small grants programme to 97 local projects totalling £419,000.
Over the last four years, almost 1,000 people participated in training on Health Inequalities and Community Development.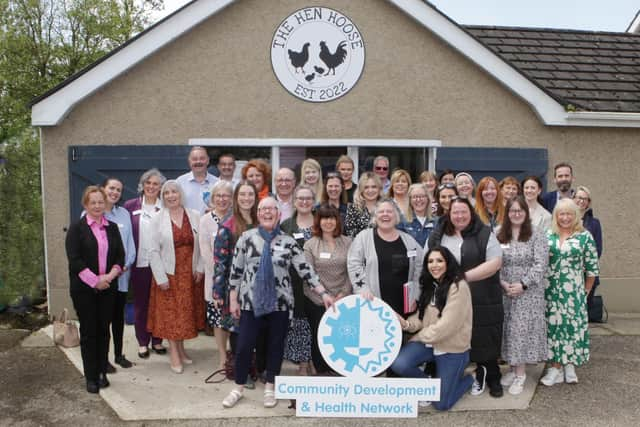 Diane McIntyre, Interim Head of Health and Social Wellbeing Improvement, PHA, congratulated the 22 groups involved in the 2022-23 programme and said: "Addressing health inequalities is one of the main focuses of the PHA and the Elevate programme is playing a part in the effective delivery of this aim within local communities.
"The support from the mentors in growing the strong community development infrastructure on the ground, and the dedicated work of the mentees has brought the programme to life and is making change happen."
Patricia Harte, Training and Development Officer, CDHN, said: "We are delighted with another successful year of the Elevate Community Mentoring and Grants Programme. As with previous years, our mentees have demonstrated amazing dedication, passion, and drive to use their grants and the learning from the programme, to help them directly address the health inequalities faced by people in their community."
Patrick Toland, CEO of Northern Ireland Rare Disease Partnership (NIRDP) and mentee, commended the Elevate programme on how it has enhanced their work and has enabled NIRDP to make a tangible difference in helping "real people, with real problems that will help us build for the future."
Aidan Ormsby, Operations Manager of ARC Health Living Centre, shared his experiences as a mentor organisation for the Elevate programme: "This has been an excellent opportunity to share knowledge, skills and experiences with a diverse range of mentee organisations. Elevate has enabled 1:1 interaction and supported all our groups to collaborate, ensuring the enhancement of our networks and skill sets for the betterment of our communities."