Experience a season of festive creativity at Roe Valley and Flowerfield arts centres
Causeway Coast and Glens Arts Services are thrilled to present their exciting festive programme with events and workshops for the whole family.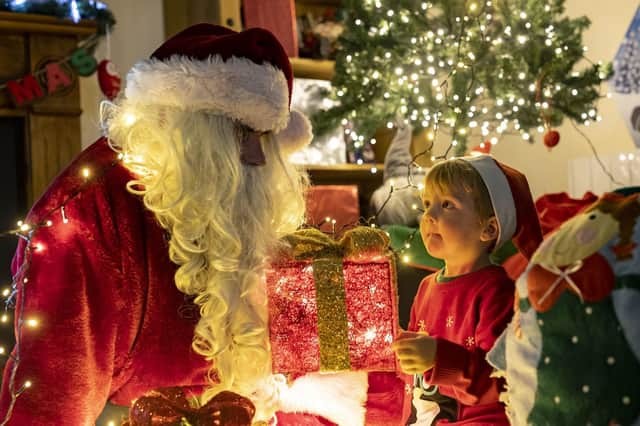 At Roe Valley Arts Centre, young elves and fairies can indulge in some messy fun, crafting adorable mini-Christmas trees (25 Nov) and join Kelly Quigley for enchanting festive stories (2 Dec). Young people aged 6 and above can channel their creativity in an air-dry Christmas decoration workshop with ceramicist Fiona Shannon or use their imaginations to create their very own Elf Rod Puppet with Karen from Banyan Theatre.
Flowerfield Arts Centre welcomes all young artists (5-11 years) to Linda Mullholland's Weekend Wonders, with upcoming workshops inspired by C.S Lewis's Narnia, and the magic of Christmas. Additionally, Art Academy with Christina from Meraki Art NI provides a platform for 11-13-year-olds to explore the wonders of winter, crafting poetry, mixed-media collages, and bespoke Christmas decorations.
Roe Valley Arts Centre invites adults to join Carolyn from Woolly Wild Folk in crafting festive felted Tomtes, inspired by Swedish mythology. Award-winning florist Elaine Taylor will guide participants in designing bespoke Floral Wreaths, and Fiona Shannon will host a workshop crafting Christmas decorations and tea lights.
Get ready for an amazing lineup of performances and events at Roe Valley Arts Centre. First up, Scottish/Canadian folk and Americana songwriter Sarah Jane Scouten takes the stage on 16 November with support from Irish musician Benjamin Amos.
Limavady Drama Club will be bringing the classic tale of Sleeping Beauty to life from 29 November – 2 December.
Music enthusiasts, mark your calendars for 8 December for A Country Christmas with the Stars, featuring an incredible line-up of talented artists. It's going to be a night to remember!
On 6 December, Roe Valley Arts Centre invites local senior citizens to a heartwarming Winter Tea Dance. It's the perfect opportunity to come together, enjoy some music, and spread some holiday cheer.
And let's not forget about the little ones. Banyan Theatre will be delighting audiences with a magical puppetry performance of The Elves and the Shoemaker.
At Flowerfield, singer-songwriter Ferna (aka Hannah McPhillimy) will perform her first home show since the launch of her critically-acclaimed debut album Understudy (15 Dec) and there will be an evening of new work from writers who've been inspired by the words and many works of C.S Lewis on 22 November, curated by local writer Anne McMaster.
Roe Valley Arts Centre is proud to present the Real Lives: The Art of Living with Dementia exhibition in partnership with Dementia NI (4 – 25 Nov). This exhibition explores the art of living with dementia and offers a unique perspective on this important topic. And if you're looking for some artistic inspiration, look no further than the Limavady Art Group's Winter Exhibition. From December 2 to January 6, their beautiful works will grace the gallery walls at Roe Valley Arts Centre.
Discover the perfect festive gifts and treats as the Flowerfield Christmas Craft Market returns from 11 November until December 21, offering a delightful array of locally crafted treasures. And mark your calendars for 18 November when the Roe Valley Arts Centre will host a one-day pop-up Christmas Craft Market. This market will showcase the creations of the emerging collective Maker's Tribe.