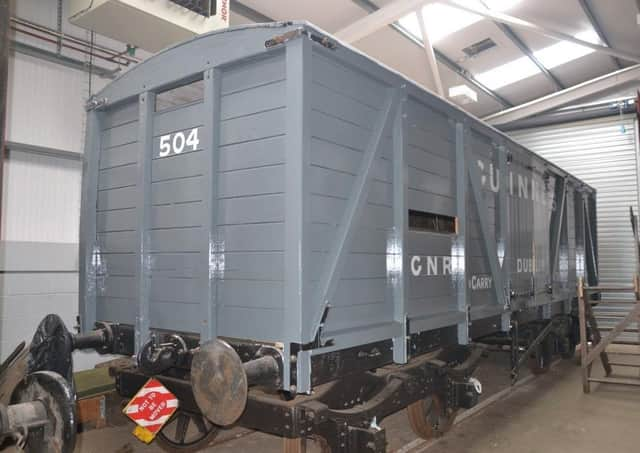 No. 504 is the last surviving example of a Guinness grain van and it will go on display at Whitehead Railway Museum following a ceremony on Saturday (September 25).
Over several years Railway Preservation Society of Ireland volunteers have painstakingly restored the dilapidated van and restored it to pristine condition.
The vehicle, which runs on two four-wheel bogies, was built in Dundalk in 1911 by the Great Northern Railway (Ireland) to transport huge barrels of Guinness from the Dublin brewery around the GNR system.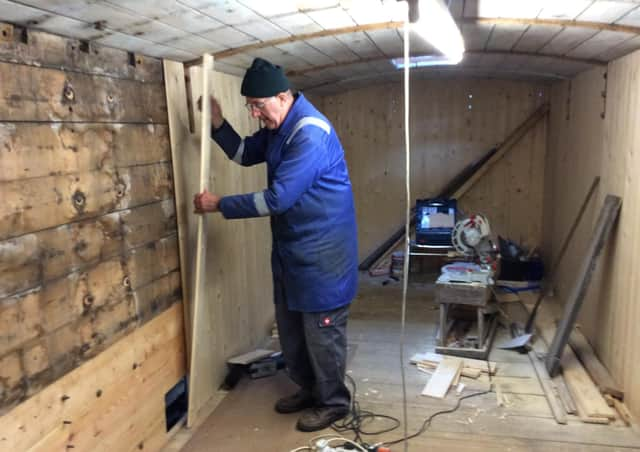 It was rebuilt in 1938 to ferry grain in bulk from farms to the brewery – before being withdrawn from traffic in 1965.
Back then, the brewery donated the wagon to the just-formed RPSI and it has now undergone a complete rebuild thanks in part to funding from the National Lottery Heritage Fund.
Lisa Adair, the RPSI general manager, said: "Guinness Grain Van 504 has a great story to tell and will be a star exhibit in the museum.
"We are very grateful to NLHF for their support which enabled us to bring this project to fruition, and also so appreciative of the efforts of our volunteers who researched the history of the van and spent countless hours making sure every detail of the restoration is correct.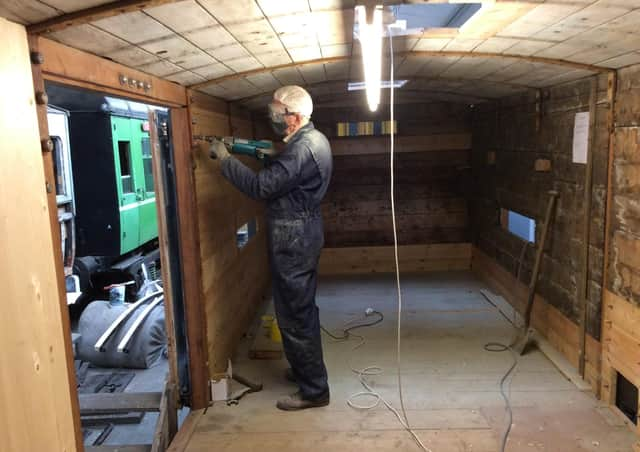 "The van came so close to being engulfed in a fire at Whitehead in 1978 but we are delighted that it survived and has now been restored to its former glory."
The restoration project has already won acclaim from the Heritage Railway Association in Britain, having been named as runner-up in one of the sections in this year's annual awards.
Following the launch the van will be on display to visitors at the museum during the afternoon.
The celebrations will kick off at 11am with steam train rides which will run until 4pm. Appropriately, the trains will be hauled by No. 3BG Guinness, which worked at the Dublin brewery until 1965.
"It's likely that the Guinness engine and the Guinness van will have rubbed shoulders in years gone by so it's nice to think that they are back in the same stable again – and both looking so well," said Mrs Adair.
"Saturday will be a special day for us at Whitehead – we will have a brass band playing over lunchtime and a face painter in residence . so it will be a day out for all the family. Everyone is welcome and tickets can be booked through the Visit Belfast centre. "
This will be a special day for Guinness Grain Van 504 – and a special day for us."
--
Click here to read: Ballcarry man lovingly restores rare World War One wagon in 'lockdown project'
A message from the Editor:
Thank you for reading this article. We're more reliant on your support than ever as the shift in consumer habits brought about by coronavirus impacts our advertisers.
Please consider purchasing a copy of the paper. You can also support trusted, fact-checked journalism by taking out a digital subscription of the News Letter.