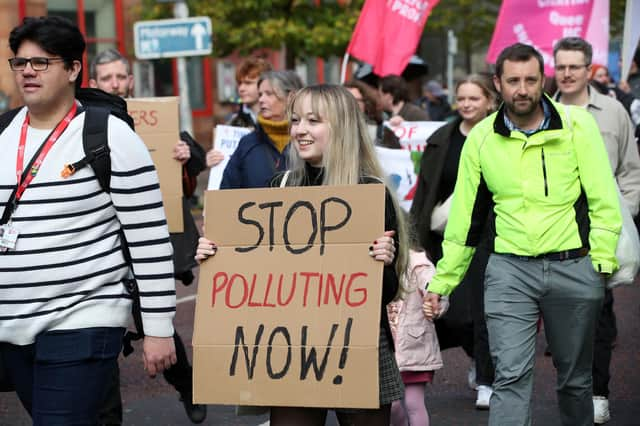 In pictures: Save Lough Neagh campaigners take their call for action to the streets of Belfast
​Urgent action to save and protect Lough Neagh was called for at a protest rally held in Belfast City Centre on Saturday.
Published 22nd Oct 2023, 10:54 GMT
Environmental campaigners, along with representatives of political parties and trade unions joined with those who live near Lough Neagh and anglers to highlight the crisis at the lough and to set out clear demands for its restoration.
The 'Save Lough Neagh' march assembled at Writers' Square before making its way to Belfast City Hall.
A campaign spokesperson said: "Lough Neagh is on the brink of collapse. We need urgent action to save this vital natural resource."
The campaigners are demanding the public acquisition of the lough, an independent Environmental Protection Agency, investment in a research and recovery plan, the end of commercial sand-dredging and sewage dumping, a reduction in agricultural run-off and recognition of the rights of nature.
Speakers at the City Hall rally included People Before Profit MLA Gerry Carroll, academic John Barry, campaigner James Orr and Louise Taylor of Love Our Lough.